Photo by Jacqueline Malonson, Jax Photography.
Humans have been making new things from old since the dawn of time, but it's only been in the last 50 years that we've used recycling to make the most out of materials and to divert the mounting piles of material waste that come with our increasingly consumerist society. 
The nonprofit recycling organization Eco-Cycle estimates that a US recycling rate of 75 percent would create 1.1 million new jobs. Right now, the recycling industry creates nine times as many jobs as conventional landfill and incinerator jobs, according to the US Recycling and Economic Information Study (EIS).
These stats echo what many business owners and consumers already know—recycling can not only create jobs, but life-sustaining careers. The recycling industry has already proven itself as a viable solution to the threats increasing material waste poses to our climate as well as the scarcity in quality job opportunities. And throughout the country, consumers, businesses, and nonprofit organizations are tapping into this promising sector within the green economy.
Curbing Waste for a Cleaner Climate
Today, the recycling industry involves the collection, sorting, and processing of recycled materials, re-manufacturing of new products made with recycled materials, the manufacturing of recycling equipment like vertical balers, the commercialization of recycled products for reuse, resale or shipment, and the age-old practice of composting.
All of these strategies work to prevent waste materials from entering landfills where if organic, they decompose and release methane gas. Materials containing chemicals can also mix with organic matter and form toxic substances that can leach into groundwater and compromise soil health. Beyond these environmental impacts, landfills can just be plain unpleasant to the senses as they fester with bacteria, oppressive odors, and prowling vermin that nobody wants in their backyard.
The US national recycling rate is 26 percent for solid waste and 34.7 percent when composting is factored in. The EPA estimates that increasing the national recycling rate for solid waste to 35 percent would cut greenhouse gas emissions by 11.4 million metric tons of carbon equivalent.
This is easier said than done as the recycling industry has dealt with changes to the market. In 2018, China enacted the "National Sword" anti-pollution policy that only accepts waste paper, plastics and metals that are no more than 0.5 percent contaminated. For US recyclers, this is daunting criteria, since US contamination rates can reach as high as 25 percent. The policy's impact is felt across US facilities struggling to find new buyers for recycled materials. In response to China's policy, CityLab has reported on how US facilities in Maryland and DC are improving recycling programs by making more concerted efforts to educate residents about what can and cannot be recycled. Some communities, like Montgomery County, Maryland are going back to dual-stream sorting models in which residents separate paper from other materials to prevent contamination before their bins are picked up.
The adjustments to the National Sword policy reflect the spirit of endurance in the US recycling industry. In addition to the efforts of municipalities, small businesses continue to recognize the treasure in thrown away materials by marketing to communities they know will have use for them.
In Gaithersburg, Maryland, the nonprofit Donation Nation has championed reuse as a green solution to local waste removal needs, and since it takes less energy to reuse an object than to recycle it, the company has already made a few wins for its local environment.
Founded in 2010, the organization collects items from residences and commercial buildings and has recycled and redistributed seven million pounds of unwanted items and given 840,000 pounds of reusable products to nonprofits including Interfaith Works Clothing Center, A Wider Circle, Goodwill, Salvation Army, and Habitat for Humanity.
Instead of taking products apart and recycling their materials, Donation Nation primarily collects unwanted reusable items. While most products for recycling aren't reusable, Donation Nation has taken this approach so it can redistribute items to those in need.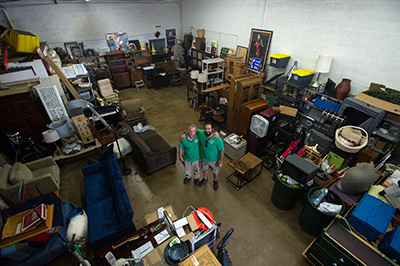 Donation Nation saw a slight drop in demand recently due to 2018 tax law changes, but Bailey says the Donation Nation customer experience is more than enough to sustain the organization. Customers can choose services for junk removal, donation pick-ups, and complete clean outs. When a customer orders a pick-up of furniture, appliances or other household items, the team sorts and groups items containing similar chemicals. These grouped items are then transferred to a chemical recycling station and are used in other products like paints.    
"I started the company with $300," says Bailey. "We had humble beginnings, and it took a couple of years to get the ball rolling. But now we've built a reputation for having excellent service and it's in demand for our customers. People know the other options out there and feel this is better."
Donation Nation is also part of Montgomery county's Ecowise program for chemicals. Through this program, some of the chemicals derived from donated items are recycled and used to make other products like oil and latex based paints, and paint thinners.
Bailey says electronics recycling has also been incentivized by the county, so he's seeing more customers donate items like outdated computers and batteries so they can be sent to partners for electronic recycling, like the Montgomery Scrap Corporation. 
Old Techniques, New Possibilities 
After doing counter-explosives work as a Combat Engineer Officer during a 15-month deployment to Iraq, Justen Garrity returned to the US in 2009. Finding himself in a job market crippled by the Great Recession, he was unable to secure employment, a period he describes as one of the most difficult in his life.
"You can only be angry for so long...I started looking at different kinds of recycling and found out that two-thirds of the waste in every trash dump in America has compostable products," says Garrity. "Whether it's paper waste, yard waste, or food waste it just seemed like there was all this material and nobody collecting it, so I just thought it was a great opportunity."
Garrity decided to start his own business in Veteran Compost, a composting operation based in Aberdeen, Maryland, that collects food, yard, and paper waste, and sells composts to nearby farmers and gardeners in the DC metro area. Veteran Compost provides collection services for restaurants, residences, and commercial buildings. As its name hints, it focuses on providing job opportunities for veterans.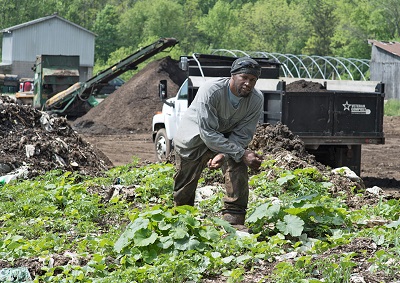 At the facilities in Aberdeen, Fairfax, Virginia and soon, Severna Park, Maryland, these food scraps are mixed with wood chips and left to sit in aerated piles where they remain for four to six weeks. After this "active composting" period, the compost is screened and cured for another two to six months.
Veteran Compost sells its soil to nearby urban and organic farmers, but Garrity says its most frequent customers are homeowners working on various gardening and landscaping projects. 
The labor-intensity of the recycling industry that spurs demand for jobs is evident in Garrity's business as staff have the daily tasks of transporting bins full of waste materials and composts, driving bins to and from pick-up sites, and eventually putting scraps through the composting process. Veteran Compost has hired 20 employees since 2010. 
"We try to pay people a living wage and our Maryland operation is adding dental insurance and a retirement plan," Garrity says. "A lot of our guys sometimes come to us and things in their life is a little turned around and they're able to get the train back on track."
Protecting Workers and Moving the Industry Forward 
As the industry grows, consumers will continue to have the satisfaction of joining recycle collection programs or buying products made from recycled materials, but there remains opportunities to improve the work that makes this possible. 
For workers who collect, transport, and sort materials, there are heightened risks for exposure to harmful substances and work-related injuries. The United States Bureau of Labor Statistics revealed that while the rate of injuries at solid waste collections dropped slightly from 5.2 to 5.1 per 100 workers in 2017, the rate within material recovery facilities (MRFs) rose significantly from 6.0 to 9.8 per hundred workers. What's even more concerning is that the number of recycling and waste collection worker deaths reached 59 during 2018, according to the Solid Waste Association of North America.
There is still a ways to go to ensure recycling workers are properly protected, but the US is making steps in the right direction. 
The National Waste and Recycling Association has worked with 22 states to pass "Slow Down to Get Around" laws that require drivers to slow down when around recycle vehicles for the benefit of collection workers. 
Municipalities and the industry must work together for system change to curb the current trend of serious work-related injuries and deaths.The Occupational Safety and Health Association (OSHA) recommends that employers invest time in safety trainings, particularly for navigating loading trucks. OSHA also requires established protocol for handling powerful machinery like bales and forklifts, and that workers handling raw materials have access to proper ventilation and protective equipment like face masks and respirators.
Such regulations are proven to save lives, and by making safety an inherent part of recycling industry culture rather than just a requirement, businesses will make themselves more attractive to workers and investors in the long haul.
From Green American Magazine Issue