Courtesy of Meredith Sheperd
These Green Business Network members didn't wait around for their industries to get greener—they took the plunge and did it themselves.
Small business owners are big thinkers. Entrepreneurs, and our very own Green Business Network® (GBN) members in particular, have pioneered many green economy trends of today—socially responsible investing, community banking, organic clothing and foods, and reusable items to replace single-use. They're not just visionaries—small business owners are big job creators too, adding .52 jobs per firm in February of this year, a 45- year high for new small business jobs.
As these ideas and products have been scaled up and entered the mainstream, GBN members continue to be on the forefront. Here are stories of three of our 2,500 GBN members—entrepreneurs that saw a gap in the market and decided to start a business to fill it in a green way. We spoke with three business members who saw an opportunity, got inspired, and created businesses to serve their communities—or the whole country!
Planting Gardens in The Swamp
Meredith Sheperd
Love & Carrots
Washington, DC
Member since 2013
Meredith Sheperd had farmed and worked in environmental nonprofits but saw an unmet need in her Washington, DC community. Looking around the city, Meredith could see plentiful yards, roofs, and patios that were sitting idle, despite abundant space and favorable growing conditions. DC's building height limit means no skyscrapers, allowing more sun to get to ground-level gardens. Surely there could be a way to get people to grow food and increase environmental stewardship.
She put up a homemade flier in local coffee shops offering to help people and businesses start gardens, and she reached out to local listservs and her informal networks. It worked. The first summer she planted around a dozen gardens and purchased her first company vehicle, an old pick-up truck. From day one, Meredith's been trying to keep up with demand.
Nine years later, Love & Carrots  has grown over 800 organic, regenerative gardens—in homes and at businesses and organizations in DC, Maryland, and Virginia. What started as seasonal work with the help of friends and volunteers has turned into a successful small business that employs 17 people full time year-round. Countless others are impacted by the beautifying and greening of neighborhoods across the area. Sheperd's fellow GBN members were so impressed with her work that they voted to have her represent them on Green America's board.
For the greatest impact, Sheperd and her staff nurture their gardens regeneratively.
"I very much believe that restorative agriculture and organic gardening are an important part of our future—for the human race and the planet," Sheperd says.
She and her staff have a deep knowledge of the effects of agricultural chemicals on communities and ecosystems and focus on building healthy soils in all the Love & Carrots gardens. Healthy soils lead to robust micro-ecosystems in backyards, which is better for the gardener, the community, and all the plants and animals that live in these urban and suburban spaces.
"That's why I became a farmer, because I cared about the environment," Sheperd says. Business owners and hobbyists who relate to Meredith's attitudes on regenerative gardening might feel at home in Green America's Climate Victory Gardening online community, at facebook.com/groups/CVGardeners.
Love & Carrots and its gardeners for hire aren't just growing food, they're growing a movement: the knowledge of gardening, healthy food, and awareness around environmental issues. They're hands-on, offering coaching and an apprenticeship program for those looking to learn more. Creating excitement around fresh, healthy food is the first important step in helping people appreciate the natural world and embrace an environmental perspective.
Sheperd's perspective on the future is positive. She's working toward making organic vegetable gardens a common sight in urban landscapes. And, growth in the urban farming and agriculture sector has her hopeful.
"Young people especially feel high stakes in what's happening to our planet, so I think they care very much about being green and protecting the environment," Sheperd says. "I see the green economy really continuing to grow and thrive and expand and become a larger share of what keeps everything coming."
Banking on a Green Retirement Fund
Rob Thomas
Social(k)
Springfield, MA
Member since 2006
Rob Thomas was working for a Wall Street investment firm when the stock market crashed in 2000 and he found himself wondering where to take his career next.
Over the years, Thomas had engaged with sustainable communities as an inaugural member of the nonprofit Slow Money Movement and as a volunteer at Gasoline Alley, an organization that teaches youth entrepreneurship and uplifts neighborhoods with socially responsible business practices.
After witnessing the greed of the tech bubble and despair from the bust, Thomas wanted to use his background to green the investment sector. That's when he came up with the idea of creating the country's first 401(k) with ESG options. That is, Environmental, Social, and Governance criteria that ensured conscious investors were putting their money into businesses and causes that aligned with their values. [Editor's note: ESG investing is often used interchangeably with socially responsible investing (SRI)]. In this new internet age, he thought this plan could be the first retirement plan to be fully paperless.
The mission hasn't changed since he started Social(k)  in 2005: "to provide people the option to invest their money in conscionable companies which prioritize social and environmental responsibility alongside continued profit growth."
Research over the years has proven that socially responsible investments can compete with conventional investments. For years, it was believed that people had to choose between their values and profitable investments. Many advisors weren't promoting or supporting SRI, instead pushing index funds with the suggestion that investors donate a portion of their profits after-the-fact. Thomas suggests this is an antiquated understanding of responsible investing.
"We need to fight that story. History is showing that this is outdated," Thomas says.
As of 2018, according to the US SIF Foundation, there is $12 trillion under professional management now involved in a socially responsible investing strategy.
After the financial crisis of 2008, investors eased back into the market and SRI investing options experienced immense growth. Companies are adopting SRI as it makes its way into the mainstream, because those that don't have an SRI fund in their 401(k) are missing out on something eco-minded staff might see as a big benefit. According to a 2019 survey from Natixis Investment Managers, 61 percent of employees said they would be more likely to save for retirement if their plan offered SRI options. Only 13 percent said they currently had access to those plans.
Thomas aims to make SRI retirement plans as easy as possible on employers and workers.
"We're helping the employees have a better retirement product, and we're helping employers attract these employees who care."
He does this by allowing employers to outsource all this work, to him, so they can continue focusing on their mission.
Social(k) is still a one-man show, but the work he's doing is leading to more and more advisors and investors who understand ESG and 401(k)s at some of the largest companies in the market. And of course, the impact of that investment is huge—it means whether your job is green or not, your retirement savings can be creating a green economy and more green jobs.
Creating a New Kind of Green Screen
Judy Mazzuca
Ink Forest
Chicago, IL
Member since 2014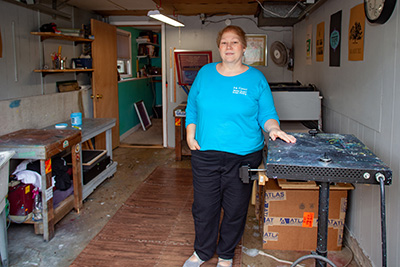 When Judy's children left for college in 2013, she began exploring options for life after being a stay-at-home parent. Three decades earlier, she had seen a screen printing demonstration that stuck with her. She began researching and decided to start her screen-printing business, Ink Forest .
Quickly, Judy learned that the printing industry is full of chemicals that are known endocrine disruptors, carcinogens, and environmental pollutants. With her own concern for toxic chemical exposure, Mazzuca tapped into the ethical fashion movement that has been growing for decades and is being boosted by demand from millennials—73 percent of whom globally said they'd pay more for sustainable goods, according to a Nielsen report.
"The apparel industry is extremely polluting, so I choose organic cotton and water-based inks. Once I started doing research and realized how dirty it was, I knew I was going to find another way. I didn't want to be around those chemicals—I'd lived a pretty clean life."
Judy thinks back fondly on her first clients, Vegan Street, who she says gave her a chance to hone her skills and find the best methods to align with their shared values.
"A lot of my clients are people starting their own small businesses, and I will always help them out, because that's how I got started—someone gave me a shot."
Since then, Judy's worked with businesses and organizations, large and small, including the Obama Foundation, Everlane, and you likely saw some of her shirts, posters, and baby onesies at women's marches across the country.
In February 2019, Judy's business Ink Forest became the country's first certified woman-owned and certified Green screen printer.
Incredibly, Judy didn't consider herself a creative person when she started. Today, she's the owner, printer, manager, and accountant for all of Ink Forest's work—with some artistic help from her husband, she mentions.
"If we couldn't print green, we wouldn't print at all" is Judy's business motto, and it's clear that this is at the forefront of all the work she does. She sources clothing from suppliers with organic, fair trade, made in America, and sweatshop free options. She uses vegan, water-based inks that are better for her, the wearer, and the planet. Judy lives a green life and wanted her business to reflect that. Luckily, there were customers out there looking for the same.
Many of Judy's clients are ethically minded and care deeply about her efforts to green an industry that's often plagued with chemicals. She's had her business model questioned: Isn't it too expensive and time consuming to print in a green way?
Judy's response is simple: the costs aren't that great and, anyway, it's worth it.
"I don't charge my clients extra to use the inks, because I choose to do this. I eat the cost, because this is important to me."
For her, this green business model has been a success, with her business growing every year and happy, healthy clients.
From Green American Magazine Issue