Photo courtesy of John and Holly Trimble
Even if you're not a farmer or a corporate CEO, you can take part in the effort to regenerate our soil and reverse climate change. All you have to do is garden. 
Americans planted Victory Gardens during WWI and WWII to feed their communities and families at home, as part of supporting the war effort. (That way, more food from farms went overseas to feed soldiers.) By 1944, nearly 20 million Victory Gardens produced nearly 8 million tons of food.
Green America is asking Americans to garden for the common good once more. By planting what we call a Climate Victory Garden, all of us have the opportunity to use our gardens to fight global warming. 
To grow a Climate Victory Garden, all you have to do is shift to regenerative gardening practices. You'll regenerate the soil in your corner of the country, allowing it to sequester more carbon. 
Use the techniques listed below to grow a Climate Victory Garden during your next growing season. (Note: You don't have to use all of the techniques. Even using some of them will help regenerate your soil and fight the climate crisis.)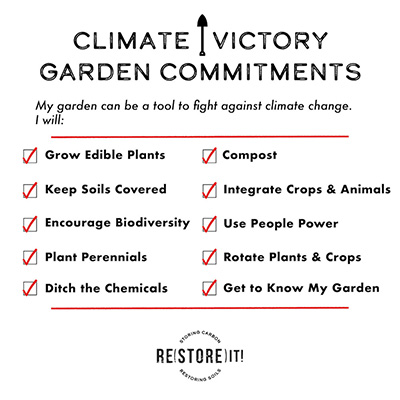 Jes Walton, Green America's food campaigns manager, is an avid gardener-turned-Climate Victory Gardener. "Climate Victory Gardens gives individuals a chance to engage with regenerative agriculture in their own backyards," she says. "They represent a very real, tangible action that anyone can do to support and take part in the fight against climate change. And that's just the beginning. Gardening gets people outdoors, engaging with their natural surroundings, creating community, and eating fresh foods. It's a win all around."
Learn more about the Climate Victory Gardens program, learn regenerative gardening tips, and have the opportunity to add your garden to our Climate Victory Garden Map.
If you're a climate victory gardener looking for a community, you can request to join our Facebook group of Climate Victory Gardeners, and join the folks you see below!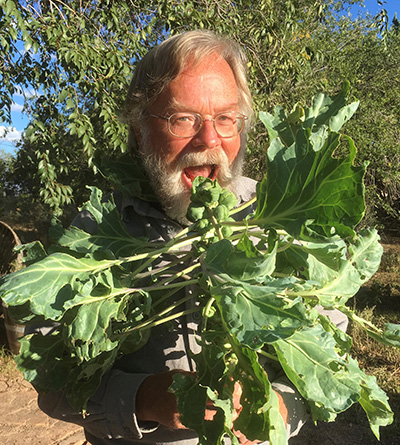 Tom Brodersen, a Climate Victory Gardener from Prescott, AZ, encourages other gardeners to grow edible plants. "Eat your vegetables! Save the world!" he says. 
Integrate Crops and Animals: Jes Walton, Green America's food campaigns manager, allows her chickens to roam about her yard and garden. Their manure naturally fertilizes the soil and feeds the microorganisms that sequester climate-warming carbon. 
Jes wants people to know that even if you don't have chickens, you can still climate garden."This year, we had 1,000 Climate Victory Garden join our movement," she says. "Of those gardens, 215 of them were brand new gardens, which gives us so much hope for the future of climate change mitigation through regenerative gardening. Currently, these gardens cover over five million square feet or around 90 football fields."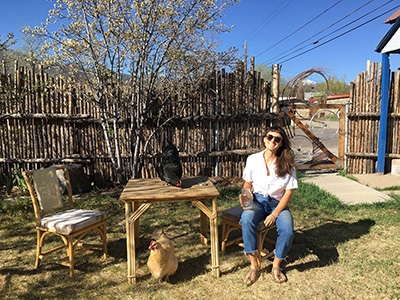 Jes and her backyard chickens.
Encourage Biodiversity: This summer, Cynthia Schaefer completed a 30-day Eat Your Yard Challenge, where she only ate what she grew in her Davie, FL, garden. Cynthia is committed to organic gardening with a wide range of edible plant types. She says, "I've found that if you feed the soil and cultivate biodiversity, the system will find solutions. It's my lazy way of gardening...."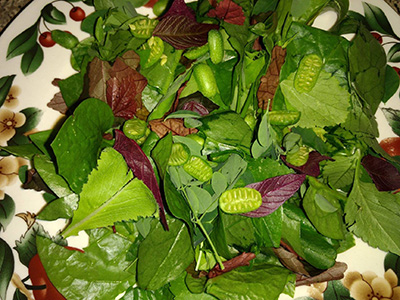 Photo by Cynthia Shaefer of her garden salad
Grow Edible Plants: John and Holly Trimble ripped out their front lawn in northern Utah and replaced it with raised garden beds, on which they grow organic produce. 
"We have transformed our own landscape into climate victory gardens we also call 'foodscapes,'" says John. " We also started a small volunteer group, Foodscaping Utah, that helps people near us foodscape their front yards. ... We believe people would love to grow some of their own food if they had some help getting started. Homegrown fruits and vegetables taste amazing, are incredibly nutritious, and bring beauty to our surroundings."
Holly and John of Foodscaping Utah.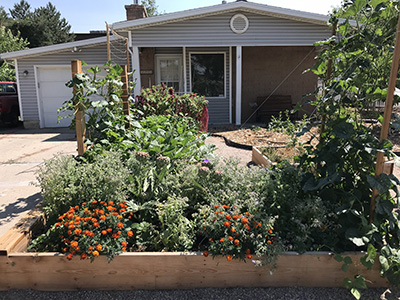 John and Holly's front yard climate victory garden.
From Green American Magazine Issue