Markus Spiske on Unsplash
43 million tons of chemicals are used to dye and treat our clothes every year AND there are 8,000 different chemicals used to manufacture clothing as noted in our 2019 Toxic Textiles report.
How do popular apparel brands, leading fast fashion brands, and retailers stack up on chemical management? Our two scorecards reveal which companies are working to end toxic textiles and which are not.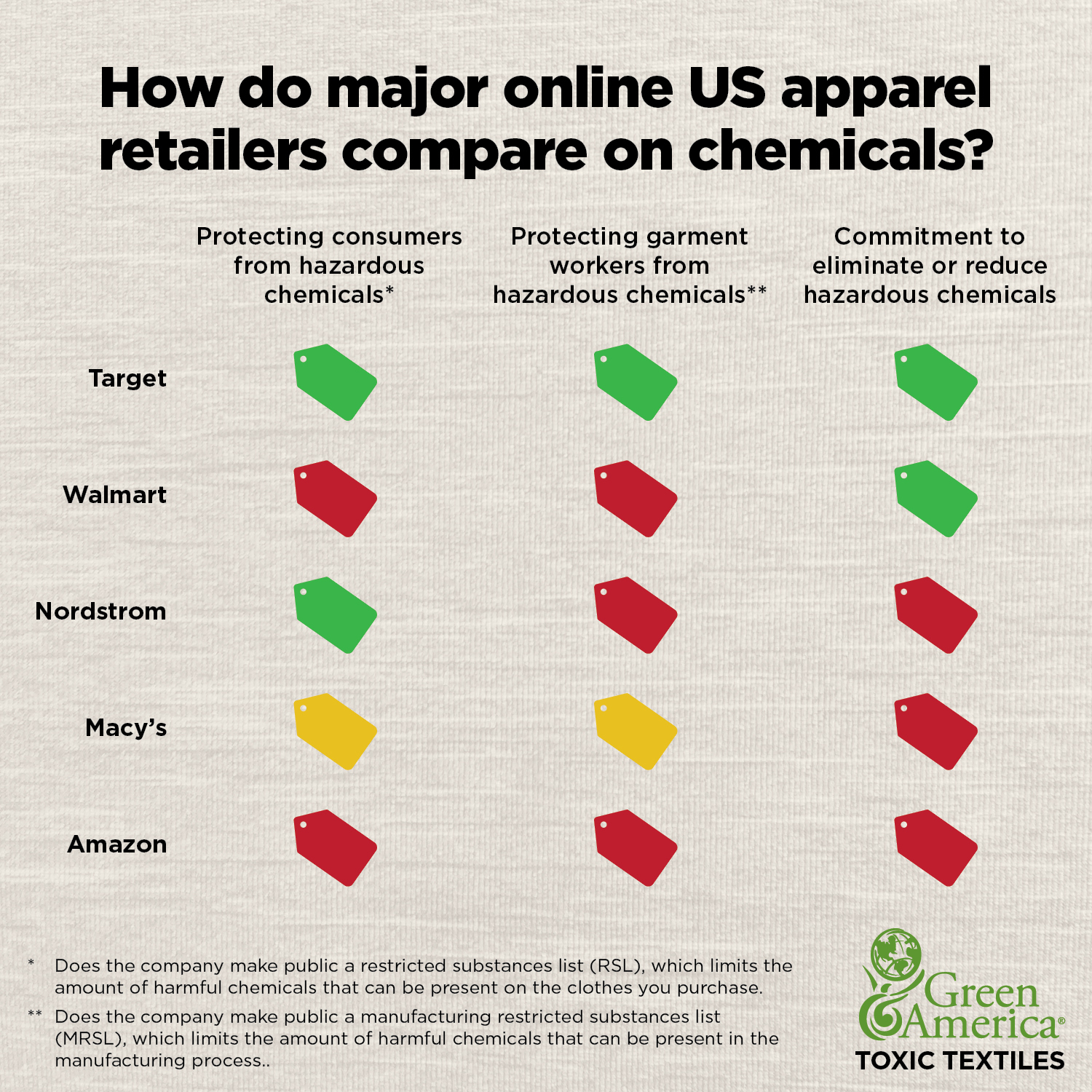 Tell Amazon to ditch the Toxic Textiles!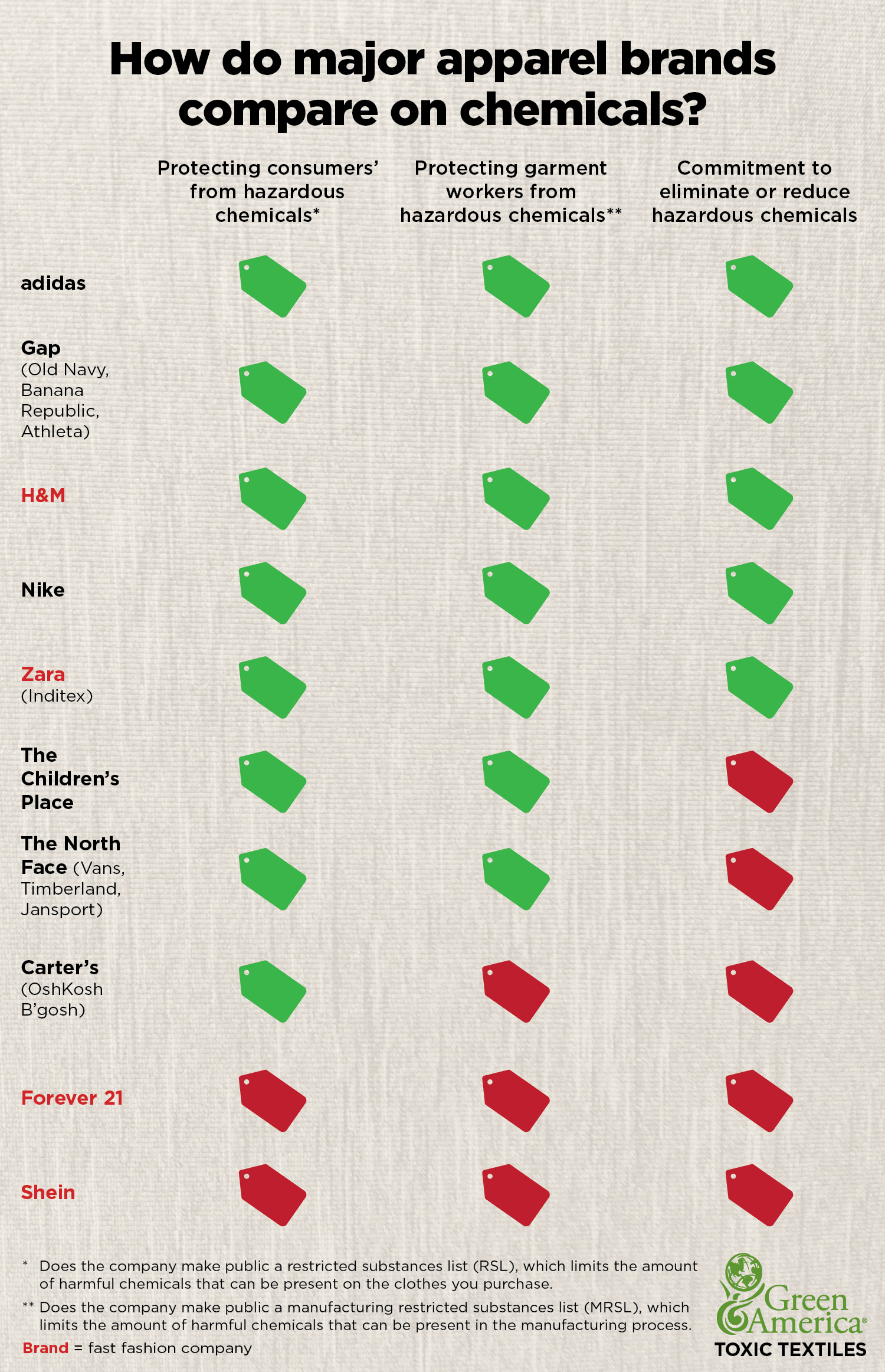 Even if a company has some policies in place to address sustainability within its current supply chain, it does not negate the sheer volume of resources used and lost annually to manufacture new clothes.
There is still no way for us to shop our way to sustainability, but there are many ways to shop with the planet and workers in mind.
Retailers
When comparing the retailers to brands (such as Nike or Gap), as a whole, retailers are far behind brands in chemical management efforts. This is concerning as some retailers, such as Amazon, are also apparel brands with numerous private label brands.
Target is the clear leader. Target has both an online platform and stores, and sells many apparel items under its own brands, which demonstrates it is feasible for every retailer included in the scorecard to improve its chemical management policies.
The retailers have a unique point of leverage to both strengthen the chemical management of their own-branded products and third-party products sold on their platforms. To start, we are calling on Amazon to both address the impacts of own-branded products and to encourage sellers on its platform to step it up on chemical management. Learn more about what we are asking Amazon to do and take action.
Brands
The success of some companies in this scorecard indicates that those poor preforming companies can and should strengthen efforts to end toxic textiles. Additionally, there are well established multi-stakeholder initiatives to toxic textiles, such as ZDHC. Thus, in addition to being feasible, companies can seek out and find assistance in how to address hazardous chemicals. There is simply no reason a company should not have at a minimum an RSL and an MRSL.
Companies listen to consumers! Looking at the single case of Carter's, in 2019, it did not have an RSL; since then, over 30,000 people reached out to Carter's, and it has not only issued an RSL but also increased its sustainability reporting.
For the retailer scorecard, we looked at publicly available information that was relevant to own-branded textiles of leading US retailers, and we conducted the research in August 2021. All retailers included sell products from other companies through their platforms or stores, however, this scorecard only examined policies related to own-branded products.
For the brand scorecard, we examined the public chemical management policies for 10 leading apparel companies in the US, which includes leading children's clothing brands, leading fast fashion brands, leading sportswear companies, and some of the largest apparel companies.
If a company had a public restricted substances list (RSL), a manufacturing restricted substances list (MRSL), or a commitment to eliminate or reduce the use of hazardous chemicals, the retailer received a green score for that category;
If a retailer did not have the information publicly available, the retailer received a red score for that category.
In order to receive a green for the category 'Commitment to eliminate or reduce the use of hazardous chemicals', the company must have a time-bound commitment to eliminate at least one class of chemicals or a time-bound commitment to reduce a % of total chemicals used. This category looked for efforts that either went beyond an MRSL or efforts that are taking place when a company has not issued an MRSL or RSL.
Notes on companies:
In the case of Macy's, it has made a timebound commitment to publish an RSL and MRSL, which resulted in a yellow score.
In comparing Walmart to Macy's, we did not find an RSL or an MRSL for Walmart that was publicly available. Walmart has goals to reduce the total volume of hazardous chemicals and has identified priority chemicals. Walmart is actively taking steps to reduce the harmful chemicals used in its textiles and has been for multiple years, while Macy's appears to be starting this process, and we were unable to find information from Macy's reporting on progress made. Walmart has reported on progress being made. For these reasons, Walmart ranks higher on the scorecard than Macy's.
Some of the companies featured in the scorecard, such as Amazon, do have chemical management policies for other products. This scorecard only looked at policies related to apparel.
Check out how apparel companies have changed over time in our previous scorecard.
The scorecards only examined chemical management policies that were publicly available. But there are many factors that contribute to whether a company is sustainable or not. For example, some leading fast fashion brands (H&M and Zara) performed well on the scorecard. However, due to the business model of fast fashion brands (creating short-lived clothing, for example), it is NOT possible for these companies to be sustainable.
The fashion industry takes a huge toll on people and the planet.
Nearly no brands pay garment workers a living wage; if you would like to learn more about this issue, take a look at FashionChecker.org.
To learn more about fashion brands' climate impacts, Stand Earth has ranked companies on climate impact and action.
Since the Covid-19 pandemic began, garment workers have lost at least three billion dollars in income, a figure which continues to rise. Approximately 10% of the apparel workforce may have already been laid off. Millions more are at risk of being fired and have not received their full wages for months. Along with allies, we are calling on apparel brands to pay their workers – take action here.