Amazon is full of deals, but those deals come at a big cost to people and the planet. So, before you click on that deal that sounds like a steal, check out Green America's 10 Reasons to not shop Amazon.
Amazon… 
Exploits workers and fights unions. This article from The Guardian discusses how Amazon has surppressed unions in its warehouses and how unions could help its workers. In this article from Green American's "Hidden Workers Fighting for Change" issue, we spoke to labor rights activists about the harsh conditions in Amazon's warehouses and how they need to change. A China Labor watch report from 2018 also found disturbing labor conditions in factories that manufacture Amazon electronics.  
Is largely powered by fossil fuels. Green America's Build a Cleaner Cloud campaign has been pushing Amazon for years to use clean energy to power its web hosting services, one of the biggest cloud storage hosts on the internet, and gotten Amazon to 50% clean energy (which means the other 50% is largely from coal, gas, giant hydropower, and nukes). The Center for Biological Diversity's "Amazon Shine" campaign pushes Amazon to use solar energy to power its warehouses for the good of wildlife habitats.  
Fights tax laws that would support local economies. This Atlantic article discusses how Amazon worked to kill a business tax in Seattle that would have created affordable housing in the city that is home to Amazon's headquarters. This USA Today article talks about how Amazon raised hundreds of thousands of dollars in a faux grassroots campaign called "No Tax on Jobs" in Seattle. 
Creates excessive packaging waste. A Forbes writer dives deep into the waste issues created by the online shopping marketplace and Amazon in particular. This Bloomberg article goes into the growth in cardboard waste in the rise of Amazon Prime. 
Raised minimum wages at the expense of workers' benefits and incentives. In October, Amazon announced that the company's minimum wage would be raised to $15 an hour. The Washington Post wrote about how even workers affected by this change were not excited, because the increase is not enough to consider many of its jobs "good jobs." NBC News discussed how Amazon dropped stock plans and bonuses at the same time as it raised the minimum wage, which left many unhappy.  
Facilitates the human rights crisis on the US-Mexico border. The Guardian reported that Amazon Web Services hosts the Department of Homeland Security's databases which allows "the department and its agencies to track and apprehend immigrants."
Stifles the voices of authors and harms the flow of information to the public. A New York Times journalist talked to publishers and authors about why Amazon wasn't helping them, and how the company might be violating anti-trust laws. 
Rakes in billions in taxpayer subsidies for its new headquarters buildings in Virginia, despite being worth over $1 trillion. Investigators at The Intercept reported that Amazon's "HQ2" will cost Virginia taxpayers $4.6 billion, twice as much as the company stated. The Washington Post reported it would cost taxpayers $2.5 billion, but that's still one of the world's most valuable companies tapping taxpayers' money to build headquarters that will create a lot of negative impacts for local residents.  
Article continues after the video...
Check out our latest climate action
Penalizes small businesses that use its platforms. The Sun magazine did a feature interview with author Stacy Mitchell on how Amazon undermines local economies and is bad for small businesses.  

Treats workers of its own delivery services poorly, which unlike UPS and USPS are not unionized. Inc digs into the struggles of being a driver for a company that promises rapid delivery. Business Insider spoke to 31 Amazon drivers and heard several disturbing stories of a physically demanding and poor-paying job.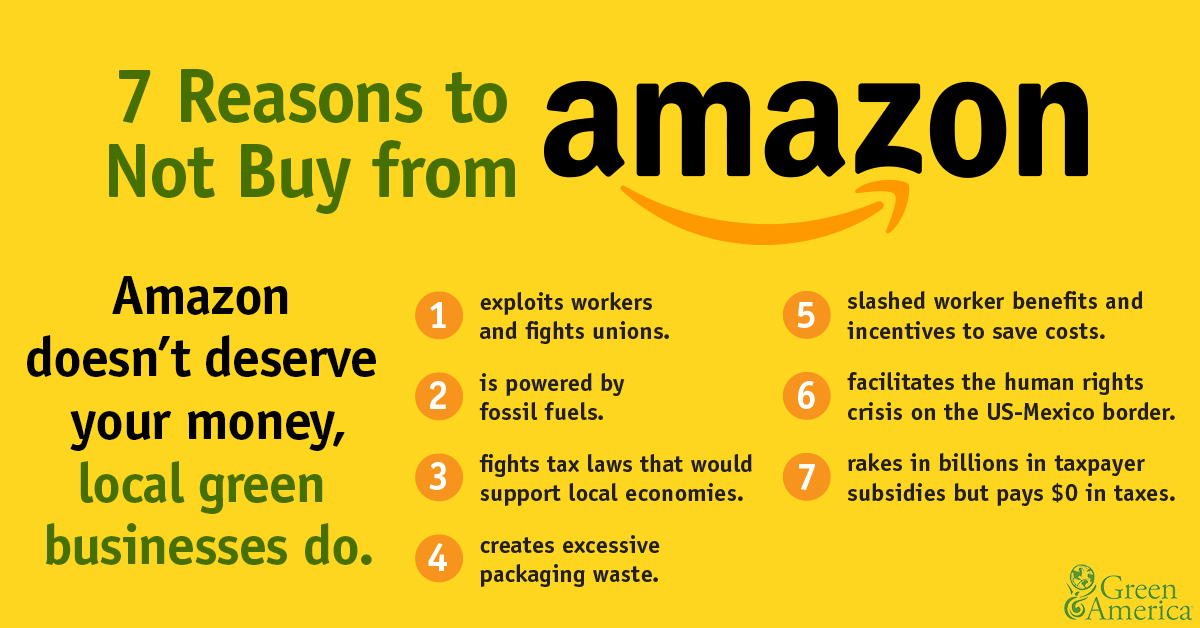 While Amazon makes it so easy to shop on its site, if you resist the urge to engage in one-click shopping, and instead shop directly with a local green business, you'll have the satisfaction of knowing you are supporting your local economy and get to meet business owners and employees who share your values. 
Or try shopping online directly from green businesses through our Green Pages – with hundreds of businesses and thousands of products to choose from.
You can also check out our Greener Options than Amazon. Either way, you'll wind up being more intentional about your spending, and more likely only purchase what you need, and you'll be directly supporting the green economy.