Campaign Updates
(Jun 2023) Progress made! Verizon has just purchased another 410 megawatts of renewable energy capacity which means the company surpasses 3.0 gigwatts of renewable energy capacity. The company claims these new agreements sets them up to meet their goal of 50% generate renewable energy equivalent by 2025. It is great to see the progress but Verizon needs to move towards 100% energy purchases and ensure environmental justice.
---
AT&T, Verizon, and T-Mobile collectively use millions of megawatts of power for their networks and, until recently, that's largely come from fossil fuels.
Thanks to consumer pressure, since our campaign launched, we've seen significant movement in shifting the industry to clean energy!
AT&T has announced purchase agreements for 1.7 Gigawatts of renewable energy in 2022. A major step forward, but it still has not committed to 100 percent.
Verizon has entered into 20 contracts for renewable energy as of 2022, but has a long way to go to reach its goal of 50 percent clean energy.
T-Mobile announced that they reached 100% renewable energy, but some of that is not putting new wind and solar on the grid.
Telecoms' Energy Impact
AT&T and Verizon continue to be laggards in the industry.
AT&T is a company with $168 billion in sales serving 150 million wireless subscribers in the US and Mexico. Verizon has annual revenues of $133 billion per year with about 146 million subscribers, and uses over 10 million MW of power per year.
According to the EPA's Green House Gas Equivalency Calculator, the two companies' combined electricity usage is enough to power 2.6 million homes. To address climate change, we need to be moving away from fossil fuels, and companies like AT&T and Verizon that state they are environmentally conscious should be leading the effort towards a fossil free future. We've seen major progress in the past two years, but there's still a long way to go to clean up wireless.
T-Mobile made a commitment to 100% renewable energy by 2021 and announced reaching its goal at the end of 2021. However, approximately 50% of this renewable energy is from unbundled RECS, which do not guarantee new solar or wind installations.
Energy & Environmental Justice
The three largest telecom companies - AT&T, Verizon, and T-Mobile - have a great deal of influence on the energy companies they do business with and the communities they serve.
Green America worked with our colleagues to create energy justice standards that all communication giants need to address to advance issues of diversity, equity, and inclusion. See the energy justice standards for the telecommunications industry in part 1 of our report Calling for a Just, Clean Transition.
Campaign Goals
AT&T and Verizon need to adopt a goal of 100% clean energy by 2025, along with overall carbon emission reduction goals and a timeline to get there.
T-Mobile, Verizon and AT&T need to rapidly increase their contracts that put new solar and wind on the grid to replace dirty energy, including coal and natural gas.
All three telecoms need to set clear climate emissions reductions goals that lead to a rapid decrease in emissions in the next decade.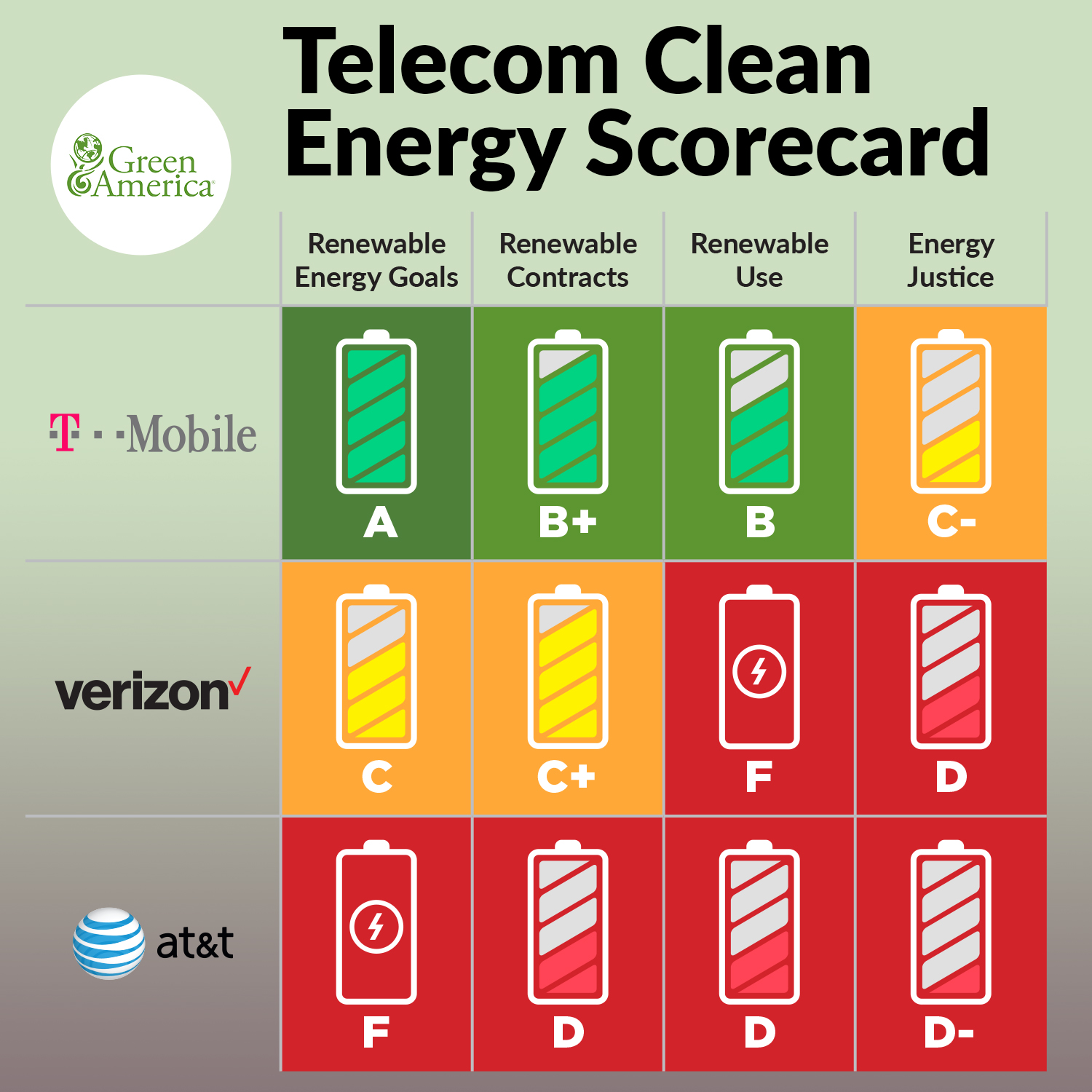 Learn more about the companies' scores in Part 2 of our report Calling for a Just, Clean Transition.