Here are some answers to common questions about this campaign.
There are two main parts of a wireless network that use energy whenever your mobile device is connected: the transceivers that receive and transmit information over the wireless network; and the data centers that store that information. The global network of mobile phone users is vast - it's set to reach 4.8 billion in 2017, so the energy requirements are huge and quickly growing. The energy required to charge your device is small compared to what it takes your service provider to run the network.
Any time you connect to a wireless network, you may think you're only using electricity that charged your device, but the information you access is stored physically on servers, which requires energy; as do the devices that transmit your signal. These run on a mix of power sources, including coal, natural gas, nuclear; and renewable energy like solar and wind.
Data centers are central locations of computing and networking equipment, and they have existed as long as we've had computers. Over the years, data processing demands have grown exponentially and now we have many inter-connected servers running 24/7. These "server farms" are necessary to keep networks running, and telecommunications companies rely on them for customer satisfaction and revenue.   Not only does it take massive amounts of energy to keep the servers running, but their environmental conditions must be kept steady, to prevent machines from overheating.
Energy efficiency is judged by power usage effectiveness (PUE), and research has shown that half the energy goes into computing and the
other half
for other tasks or goes to waste. In 2012, McKinsey & Company found that the average data center was
only using 6-12%
of its power to do computation work, with the rest wasted in idling. It has been reported that some data centers waste 90% of the power used due to incessant running at maximum capacity. The industry (including Verizon and AT&T) has increased efficiency, which has stopped energy usage from skyrocketing, but US data centers were still using
70 billion KW
in 2014 (the last year for which we have data). For more information on data centers:
https://www.acs.org/content/acs/en/pressroom/presspacs/2013/acs-presspac-january-23-2013/toward-reducing-the-greenhouse-gas-emissions-of-the-internet-and-telecommunications.html
http://www.tiaonline.org/policy/energy-environment
We are focusing on these companies due to the significant impact the telecommunications industry has on our global greenhouse gas emissions, and the public statements AT&T and Verizon have released about the urgency of climate change. Despite their public statements, in 2016, a mere 1.26% of AT&T's energy comes from renewable sources, and that is largely from natural gas. Thanks to the Hang Up On Fossil Fuels campaign and the tens of thousands of consumers who have voiced their concerns, in 2018 AT&T signed contracts to purchase 520 MW of power from two wind farms in Oklahoma and Texas. This takes AT&T's use of renewable energy from less than 2% to 20%. Verizon is still using less than 2% renewable energy, has issues no targets for reducing total emissions, and lacks transparency regarding its energy usage.
AT&T and Verizon both rely heavily on "
energy intensity
" as the key metric of progress for their energy use. This is measured by the amount of energy required per unit, or capita, and the lowering of energy intensity can occur through improving equipment or processes. Essentially, both companies are using less energy per unit of data, so while the demands of their customers for data has grown dramatically, overall energy usage by both companies has grown more slowly, which is a good thing.
The problem with solely using this metric to demonstrate increasing sustainability is that it provides very little to no information on the impacts of energy being used overall by a company for its power. In the case of these telecommunications giants, they are reducing growth of their electricity use, but energy use is still growing, and almost all of the millions of megawatts they use is coming from fossil fuels.
We are urging AT&T and Verizon to reduce their emissions, increase their use of clean energy and reduce their dependence on fossil fuels to power their network.
Specifically, we ask that they:
Publicly set greenhouse gas emissions reduction goals with a timeline to get there.
Make a commitment to increase the amount of renewable energy powering their networks, with a goal of 100% clean energy by 2025, largely coming from solar and wind sources.
In January 2018, T-Mobile announced a commitment to 100% renewable energy by 2021, demonstrating that a rapid transition to renewable energy in the telecom industry is entirely possible.
Clean energy options are increasing ever year, in large part to satisfy the demands set by major corporations. There are
75,000 megawatts
of wind power installed in the US, making up 5.4% of the power grid, with the projection to double by 2020, and reach 20% by 2030. Last year, a record of 14,000 megawatts of new solar were installed and 2018 will bring total US solar installations up to
two million units
. If major companies like Apple can achieve 100% renewable energy across all data centers, we know that AT&T and Verizon can do the same.
T-Mobile, a direct competitor to AT&T and Verizon has made a commitment to purchase 100% of its electricity from renewable energy by 2021.
Some tech companies like Google and Apple committed to running on 100% renewables several years ago and are happy to flaunt their progress to the public. AT&T and Verizon are each other's number one competitors in the US, and up until 2018 have shown a similar lack of commitment to renewables.  In February 2018, AT&T took an important step forward by agreeing to purchase 520 MW of power from two wind farms in Oklahoma and Texas. Prior to T-mobile's announcement of 100% renewable energy by 2021, Sprint had been the leader in renewables. The company was awarded by Carbon Disclosure Project in 2015 for performance leadership. It has set goals to reduce GHG emissions by 20%, reduce electricity use by 20%, reduce GHG intensity by 75%.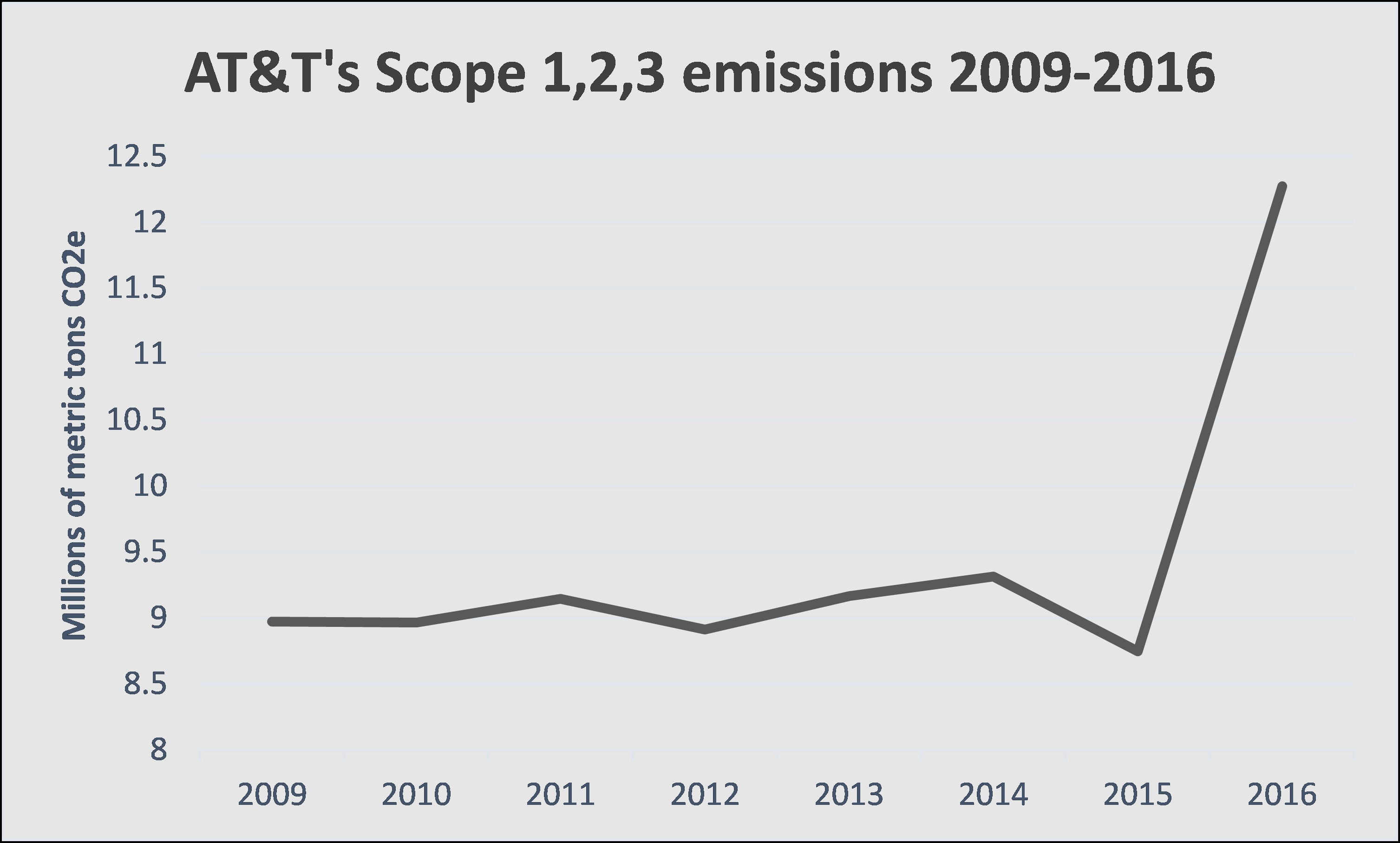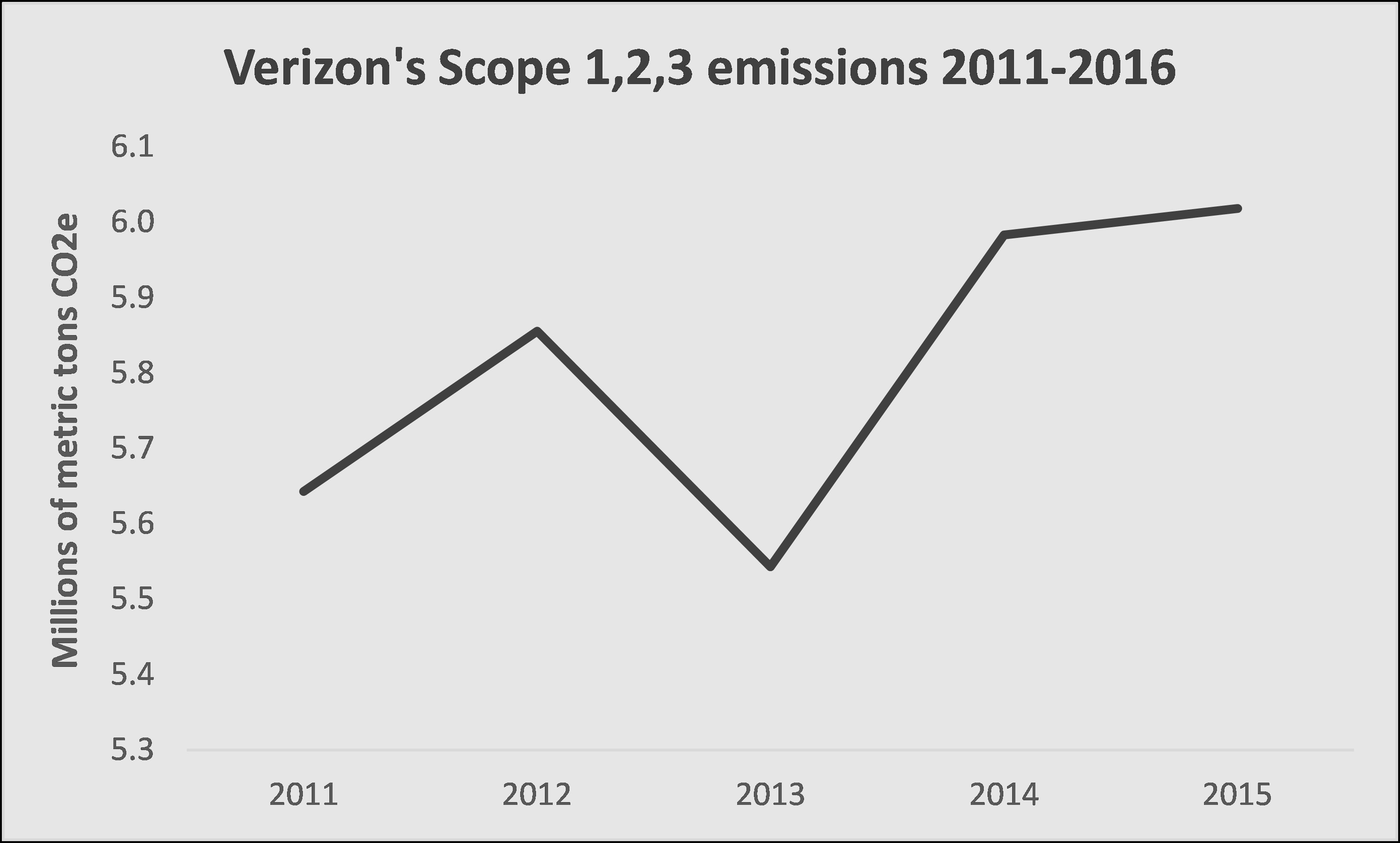 Thank you for wanting to take action on this important issue! Please call the CEOs' offices at the numbers below. You can use the script below. We'd love to hear how your interaction goes, if you would like to provide a de-brief of your conversation to our campaign director, Beth Porter, at
BPorter@greenamerica.org
.
AT&T: Contact CEO Randall Stephenson's office at (210) 821-4105
Verizon: Contact CEO Lowell McAdam's office at (212) 395-1000
"As a customer of [AT&T or Verizon] I expect your company to do its part to reduce climate emissions. I want to see your company adopt a goal of 100% renewable energy, from wind and solar, by 2025. Several large tech companies are already at 100% renewable power. Your company needs to be a leader in telecommunications. I appreciate that you have reduced energy intensity of your operations. Now, please move to 100% renewable power. Thank you."
The "Hang Up On Fossil Fuels" campaign is led by Green America, a not-for-profit membership organization founded in 1982. Green America's mission is to harness economic power—the strength of consumers, investors, businesses, and the marketplace—to create a socially just and environmentally sustainable society.