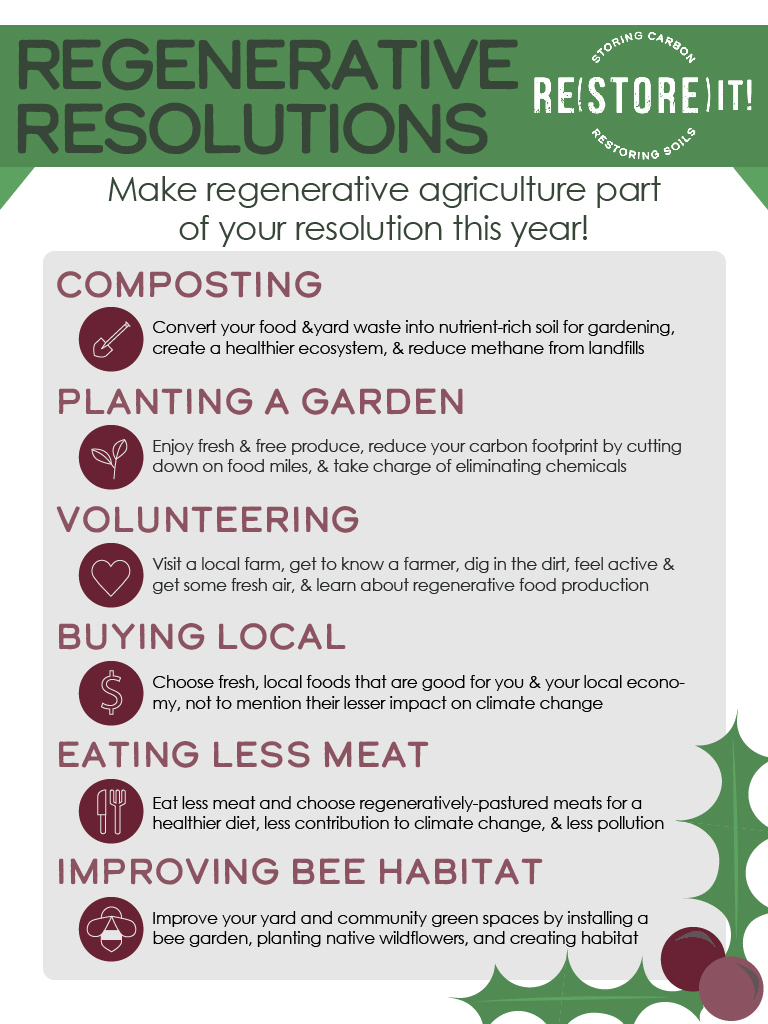 Tired of making the same generic New Year's resolutions every year that, let's be honest, you never stick to anyway? Roughly half (45%) of Americans make New Year's resolutions, with the most common being vows to lose weight, get organized, and save more. (Sound familiar?) Unfortunately, only 8% of people are actually successful in attaining their goals.
So, how can we avoid seemingly inevitable failure? Evidence suggests that setting realistic, specific goals and being mindful can do wonders for sticking to New Year's resolutions. What better way to be mindful than to focus your resolution on regenerative agricultural? Regenerative agriculture* is an approach to agriculture focused on building and revitalizing soil health to combat climate change. In order to get up to speed on the subject, get the rundown on regenerative agriculture here.
By joining the regenerative agriculture movement this year, you can improve your health in tandem with the earth! Here are some specific, attainable regenerative agriculture-focused goals for the new year. Choose one and take the first step to a healthier, more sustainable 2018!
Composting
Composting is an amazing way to convert your food waste into nutrient-rich soil. This soil can be used for gardening or simply to create a healthier ecosystem while adding less garbage to landfills! Composting is a very simple way to live a greener lifestyle and there are a multitude of online resources that give easy-to-follow instructions as well as multiple methods of composting so you can choose the best fit for you.
If you live in an apartment and don't have a yard to compost in, there are also services that will pick up your food scraps for you and compost them. Do a quick internet search and see if services like Compost Cab are currently operating in your community.
Planting
If you've never had a garden before, starting one can seem daunting. Start small by planting a few vegetable or herb plants in your yard. You will be rewarded for your work by the freshest and best tasting produce ever, for free! Better yet, you will be reducing your carbon footprint by cutting down on food transportation costs and ensuring a portion of the food you eat is grown sustainably with no harsh chemical pesticides and fertilizers.
There are many beginner guides to growing organically, like this online guide. Articles like this can guide you on how to use your garden to improve soil health. Limiting tillage (or disturbance of soil), planting perennial plants (these don't need to be replanted each year!), and using compost are some of the best ways to ensure your garden regenerates soil health. You might be in need of some gardening gear before getting started. If so, look no further than these 9 must-haves from our certified green businesses.
If you live in an apartment and do not have access to growing space, planting in pots by a window that takes in sunlight can provide a surprisingly bountiful amount of food. Another fantastic option is looking for community gardens in your area, or even starting your own!
Cover Cropping
As long as you're thinking about planting, why not plant crops that can help mitigate climate change? Cover cropping is an incredibly simple process that can allow you to use your yard for carbon sequestration, helping to slow global climate change. Cover crops also improve soil quality, suppress weeds, and prevent erosion.
Cover crops like rye and buckwheat require little upkeep and maintenance. You simply sow the seeds thickly, wait for them to grow, and then cut or mow them before incorporating them into the soil. Handy guides like this one can help you figure out the right varieties of cover crops to grow and give further details on their benefits and growing process.
Volunteering at farms or farmers' markets
Want to resolve to get involved in regenerative agriculture, but don't have the space for it? Volunteering at a local farm or farmers market is a great way to contribute to the movement, do something active and rewarding, and probably get some fresh produce along the way!
Many small, ecological farms (including urban farms if you live in a metropolitan area) have programs where volunteers can sign up to assist in farm work or help sell at farmer's markets. The WWOOF (World Wide Opportunities on Organic Farms) network is one resource which gives you access to organic farms across the country currently looking for volunteers. With options ranging from a one day visit to months of volunteering with housing provided, there are possibilities for multiple levels of commitment. This site is also a great guide to finding small, sustainable farms in your area.
Buying local
If you want to contribute to the health of the food system but don't have much time to give, changing your buying practices is a wonderful way to make an impact. Most food bought in the supermarket has been transported from afar; meaning produce has often been picked four to seven days before it gets to you and shipped an average of 1500 miles in the process. Why not cut out those carbon emissions and eat fruits and vegetables picked yesterday? Find a farmers' market in your community today and resolve to do your shopping there instead of the local grocery chain. If market days and times conflict with your schedule, natural food stores and co-ops often sell produce from local farms.
Reducing meat consumption
It has been well established that meat production is one of the leading contributors to climate change and environmental pollution. The meat industryrequires huge amounts of pesticides, fertilizers, and fuel. In addition, meat production and distribution creates ample green house gases, manure, and toxic chemicals which are released into the environment. This year, one of the most effective ways you can decrease your impact on the environment is to reduce the amount of meat and animal products in your diet.
Maybe going vegetarian or vegan isn't feasible for you this year, but any decrease in the amount of meat you buy makes a difference. Maybe that means Meatless Mondays, or only eating meat on the weekends. Maybe it just means buying higher-quality meat which is raised organically, humanely, and locally. Just resolve to start at whatever level you feel you could
realistically achieve.
Organizations like PETA have resources for transitioning to a vegan or vegetarian diet in a budget friendly, nutritious, and enjoyable way. Eating a plant-based diet has never been easier, with a plethora of companies catering to meat-free diets coming out with new, delicious products all the time. There is also a wide array of appealing vegetarian and vegan recipes you can try out this year to share with friends and family. Eating less meat can be a fun way to break out of a culinary rut and get creative in the kitchen. Resolve to eat less meat and get ready for a delicious, healthy 2017.
Improving bee habitats
Pollinators are integral to plant health and diversity and, by extension, the survival of human beings. Troublingly, colony collapse continues to occur at high rates. This is happening in part due to the use of neonicotinoid pesticides in conventional agriculture. A noble resolution for 2017 would be committing to reduce the plight of the bees by creating a better bee habitat in your community.
You can improve your yard and/or community green spaces for bees by installing a bee garden, planting native wildflowers, and creating nesting and egg-laying habitat. The Humane Society of the United States provides information on how to do this here. The Xerces Society also has more information on the subject. By simply planting some bee-friendly flowers or building a bee block, you can resolve to make your community a safer, happier habitat for bees in 2017.
A new year is a time for change, growth, and restoration. Why shouldn't these positive attributes extend to our earth and its soils? By picking one of these regenerative resolutions you can spend this next year sticking to a rewarding goal and feeling great about the strides you're making for our planet's future. Thank you and happy New Year from everyone at Green America!
*This is an exciting time in the worlds of sustainable agriculture and climate change mitigation, when these two fields have the opportunity to collaborate and reinforce one another. This partnership is in its early stages, and terminology is constantly evolving. Regenerative agriculture is a new term that is still being defined and debated. Green America is proud to be a part of this discussion and stands behind agriculture that builds healthy farmlands, supports farmers and farmworkers, protects local environments, benefits consumers, and contributes to the fight against climate change—regardless of the term used to describe it. The organization recognizes that implementation of these agriculture methods will always be site specific and depend on soil characters, crops grown, and local climates. Green America's long-term goal is agriculture production that is regenerative and meets the USDA organic standard, the best way to achieve this is through the Regenerative Organic Certification. Green America supports all farms reducing chemical inputs and enhancing soil preservation techniques to move closer to those twin goals.