The 2019 shareholder season is underway! Nearly 400 shareholder resolutions have been filed on a wide range of social, environmental, and corporate governance issues.
If you own direct company stock, be sure to Vote Your Values – use your proxy ballots to let management know you want corporate practices that support people and the planet.
Thanks to As You Sow, the Sustainable Investments Institute, and Proxy Impact, publishers of the 2019 Proxy Preview, for assistance in compiling the lists below. Green America is proud to co-sponsor the 2019 Proxy Preview; download your free copy for information on important shareholder resolutions trends and upcoming votes.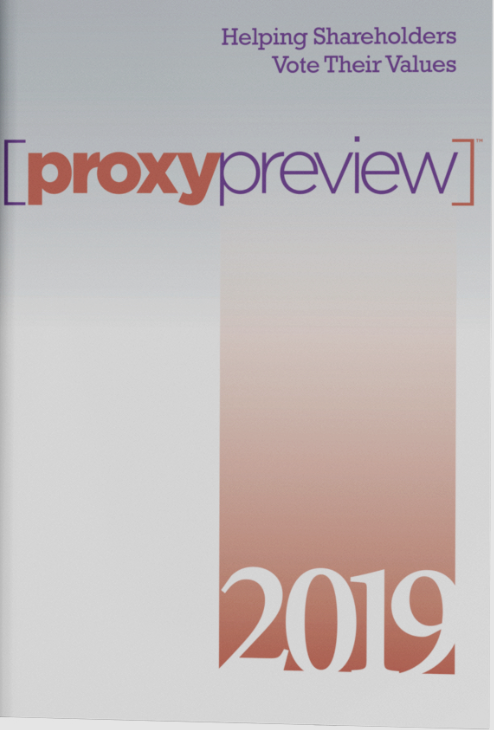 Below are some of the corporations facing shareholder resolutions on social, environmental, and corporate governance issues. We have highlighted a few of the resolutions at these companies that impact people and the planet. If you own stock directly in these or other companies, read your proxy ballots carefully to vote in favor of resolutions that reflect your values. You may have the opportunity to vote on issues such as greenhouse gas emission targets, plastics pollution, gender and minority pay disparity, the human right to water, and deforestation impacts.
Here are quick tips on how to read a proxy ballot.
As a share owner, you are a part-owner of the company, and voting your proxy is an important responsibility. Thank you for voting your values!
Post this "I'm voting" badge on social media and let people know you're proud to raise your voice on important issues as a shareholder. Click to share to Facebook or Twitter.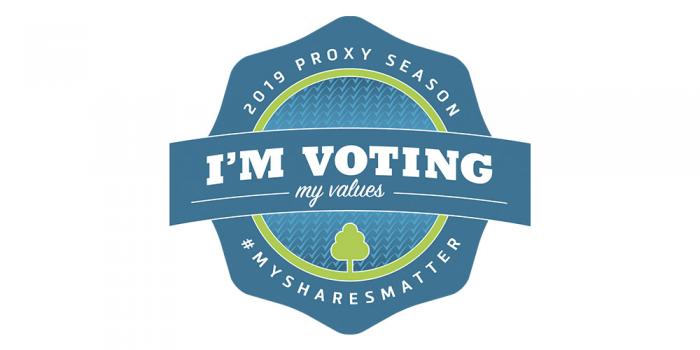 Click on a company below to view shareholder issues and meeting dates.
| | |
| --- | --- |
| Issue | Meeting |
| Report on gender/minority pay disparity | June |
| | |
| --- | --- |
| Issue | Meeting |
| Report on climate impacts and reducing company dependence on fossil fuel | May |
| Adopt greenhouse gas reduction targets | May |
| Report on impacts of food waste | May |
| Report on gender/minority pay disparity | May |
| End inequitable employment practices | May |
| | |
| --- | --- |
| Issue | Meeting |
| Report on overdraft policy | June |
| Report on gender/minority pay disparity | June |
| | |
| --- | --- |
| Issue | Meeting |
| Report on lobbying | May |
| | |
| --- | --- |
| Issue | Meeting |
| Report on human right to water | May |
| Report on anti-genocide policy | May |
| Report on greenhouse gas reduction goals | May |
| Report on plans to reduce company's carbon footprint in keeping with Paris Agreement goals | May |
| Report on plastics pollution | May |
| Report on lobbying | May |
| | |
| --- | --- |
| Issue | Meeting |
| Prohibit government service "golden parachute" (Effort to address the "revolving door" between corporations and the government) | April |
| | |
| --- | --- |
| Issue | Meeting |
| Report on climate related extreme weather impacts | April |
| | |
| --- | --- |
| Issue | Meeting |
| Report on coal risks | May |
| Review/report on election spending | May |
| | |
| --- | --- |
| Issue | Meeting |
| Report on greenhouse gas reduction goals | May |
| Report on plans to reduce company's carbon footprint in keeping with Paris Agreement goals | May |
| Report on plastics pollution | May |
| Report on election spending | May |
| | |
| --- | --- |
| Issue | Meeting |
| Report on gender/minority pay disparity | May |
| | |
| --- | --- |
| Issue | Meeting |
| Review/report on election spending | May |
| | |
| --- | --- |
| Issue | Meeting |
| Report on energy efficiency and renewable energy goals | May |
| | |
| --- | --- |
| Issue | Meeting |
| Report on plans to reduce company's carbon footprint in keeping with Paris Agreement goal | June |
| | |
| --- | --- |
| Issue | Meeting |
| Report on supply chain prison labor | May |
| Report on Equal Employment Opportunity & Affirmative Action | May |
| | |
| --- | --- |
| Issue | Meeting |
| Reduce carbon footprint of loan and investment portfolio | May |
| Report on overdraft policy | May |
| Report on gender/minority pay disparity | May |
| | |
| --- | --- |
| Issue | Meeting |
| Report on renewable energy goals and reducing greenhouse gas emissions | May |
| | |
| --- | --- |
| Issue | Meeting |
| Adopt policy on animal welfare in supply chain | May |
| | |
| --- | --- |
| Issue | Meeting |
| Report on deforestation impacts of supply chain | June |
| Review/report on election spending | June |
| | |
| --- | --- |
| Issue | Meeting |
| Report on impacts on company of limiting global temperature rise to no more than 2 degrees Celsiu | May |
| | |
| --- | --- |
| Issue | Meeting |
| Establish a board committee on human rights | June |
| Report on gender/minority pay disparity | June |
| | |
| --- | --- |
| Issue | Meeting |
| Phase out antibiotic use in animal feed | May |
| Report on inequitable employment policy | May |
| | |
| --- | --- |
| Issue | Meeting |
| Report on deforestation impacts of supply chain | May |
| | |
| --- | --- |
| Issue | Meeting |
| Report on lobbying | May |
| | |
| --- | --- |
| Issue | Meeting |
| Review/report on election spending | May |
| | |
| --- | --- |
| Issue | Meeting |
| Adopt policy on recycling | May |
| Report on pesticide monitoring | May |
| | |
| --- | --- |
| Issue | Meeting |
| Report on plastics pollution | May |
| | |
| --- | --- |
| Issue | Meeting |
| Report on executive pay links to environmental, social, and corporate governance metrics | April |
| | |
| --- | --- |
| Issue | Meeting |
| Adapt/expand human rights policy | May |
| | |
| --- | --- |
| Issue | Meeting |
| Publish a sustainability report | June |
| | |
| --- | --- |
| Issue | Meeting |
| Report on renewable energy goals and reducing greenhouse gas emissions | May |
| | |
| --- | --- |
| Issue | Meeting |
| Report on renewable energy goals and reducing greenhouse gas emissions | May |
| Report on deforestation impacts of supply chain | May |
| Adopt recycling goals | May |
| End inequitable employment practice | May |
| | |
| --- | --- |
| Issue | Meeting |
| Report on executive pay links to environmental, social, and corporate governance metrics | May |
| | |
| --- | --- |
| Issue | Meeting |
| Adopt supply chain prison labor policy | May |
| | |
| --- | --- |
| Issue | Meeting |
| Report on human rights risk assessment | June |
| | |
| --- | --- |
| Issue | Meeting |
| Report on banking ethics oversight | April |
| Report on gender/minority pay disparity | April |