Why Paper Receipts?
Our Skip the Slip campaign tackles the unnecessary environmental waste and toxins used in thermal paper receipts. Every year in the US, receipt use consumes over three million trees and nearly nine billion gallons of water. Receipt production creates nearly 300 million pounds of solid waste and emits the greenhouse gas equivalent to over 400,000 cars on the road each year. And the majority of thermal paper receipts are coated with BPA or BPS, exposing those who regularly touch receipts to these toxic chemicals.
Green America urges retailers to provide a digital receipt option and a phenol-free (meaning no BPA or BPS) paper receipt upon customer request. You can find out more details on our campaign here, along with our report that lays out the issue in detail.
We want to make sure that all customer preferences are met by receipt options, so we asked Americans what they prefer and want to see from receipts in the future. Here's what they told us.
Survey Results
1. What is your preferred receipt method?
When asked this question, 42 percent of respondents said they prefer paper, 34 percent prefer both paper and digital, 17 percent prefer digital, and 7 percent prefer no receipt at all. Broken down by age group, we see that preference for digital is highest among those aged 44 and younger, and the preference for no receipt is highest for those aged 16-24.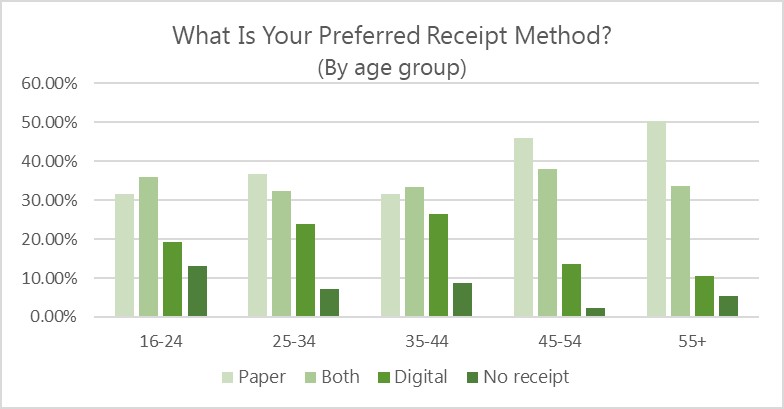 2. Why Do You Prefer Digital or Paper Receipts?
Of respondents who prefer digital, 70 percent say it's because they're better for the environment and easier to store.
As for respondents who prefer paper receipts, 64 percent say it's because they feel more secure with a physical copy, and 39 percent say they feel paper copies make it easier for them to monitor their spending.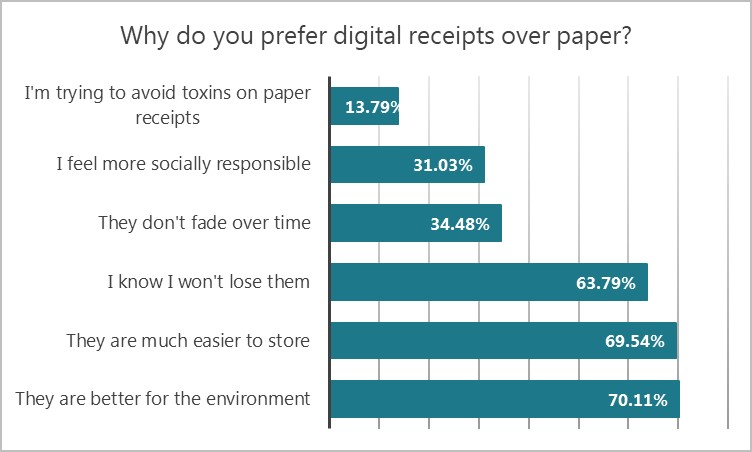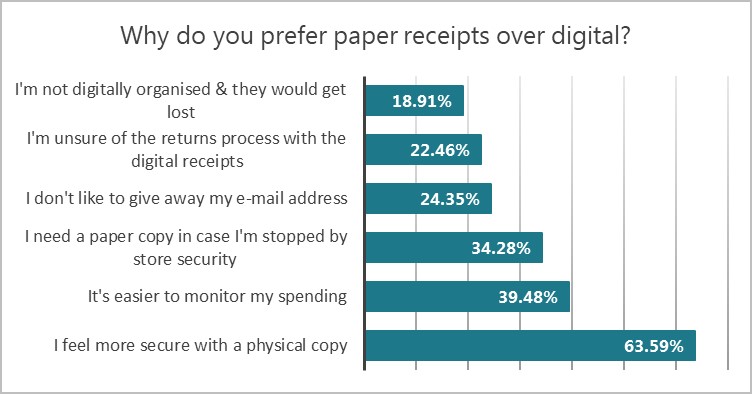 3. How often do you lose or throw away paper receipts?
Respondents who take paper receipts say they lose receipts that they intend to keep an average of 5 times a month.
Most respondents estimated that they throw away or lose over half of paper receipts that they receive, with 28 percent saying they throw away or lose nearly all paper receipts that they receive. Almost half of respondents said they "feel guilty" throwing away paper receipts.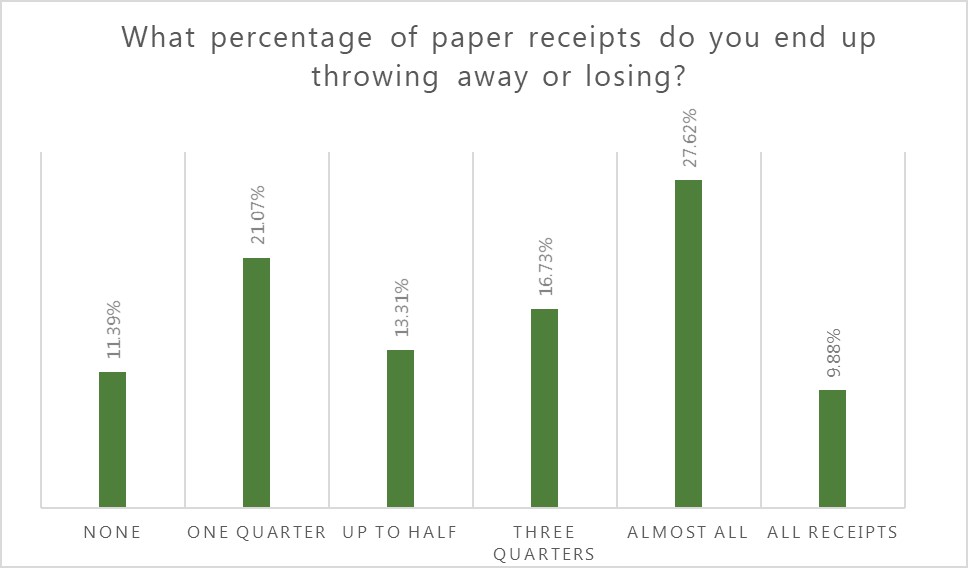 4. Would you like retailers to offer digital receipts as an option to customers?
Of all respondents, whether they prefer digital or paper, 89 percent would like retailers to offer digital receipts as an option, with the majority saying it should "definitely" be an option.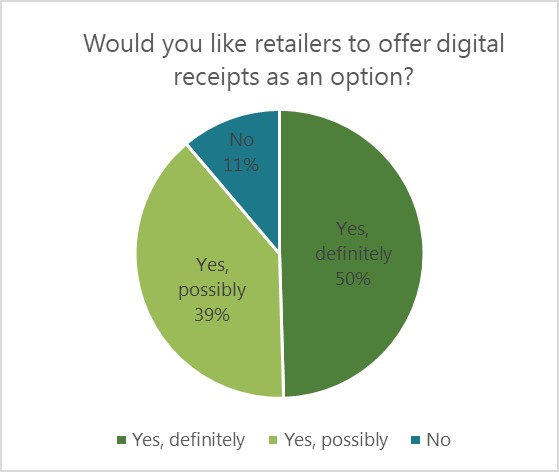 5. Additional Findings
Over a third of respondents often throw away paper receipts without thinking about it. Also, a third want to see companies do more to reduce the number of paper receipts. More than a quarter of respondents expressed being concerned that the US consumes 256,300 tons of thermal paper for receipts every year. And 20 percent of respondents don't know why we still use paper receipts.
So, What Did We Learn?
The majority of Americans want to see digital receipt options at stores.
One quarter of people prefer digital or no receipt options, the majority of this group aged 44 years or younger. Just less than half of respondents prefer paper receipts, with the majority in age groups 45 years and older.
Customers report losing receipts they intended to keep 5 times a month.
More than 37 percent of customers throw away or lose nearly all or all of the paper receipts they receive.
These findings are in line with the goals of Skip the Slip. We want retailers to offer: a digital option; phenol-free paper receipts by customer request; and an option for no receipt so that customers can have the choice. Forward-thinking retailers are already looking to offer paperless options, as preferred by many younger customers. By offering these options, stores can reduce paper waste and save money by not printing receipts people do not want.

This research was conducted by Censuswide, with 1,011 general respondents in the US in July of 2019. Censuswide abide by and employ members of the Market Research Society which is based on the ESOMAR principles. See full results summary here.