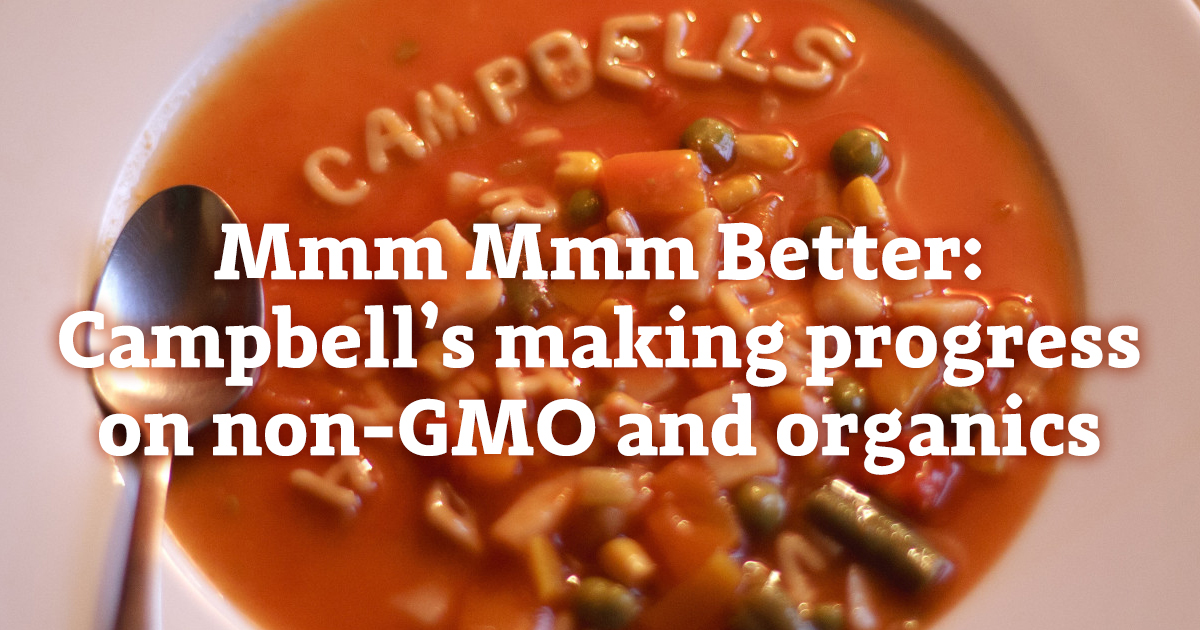 Campbell's Soup is one of America's most iconic brands. The company famous for soups also produces thousands of other food items. Famous brands under the Campbell's umbrella include Pepperidge Farm, Bolthouse Farms, and Prego.
Like most major food companies, Campbell's had not kept up with the changing tide of consumer preferences for healthy and sustainable foods. While the company bought farm fresh and organic companies like Plum Organics and Bolthouse Farms, many of their main products are still made with artificial ingredients, high fructose corn syrup, and GMOs.
Over the past year Green America staff has been meeting with Campbell's about a transition to non-GMO and organics across their main product lines. We highlighted the growing concerns around GMOs and pesticides, and the need to include healthy ingredients in all Campbell's products. We talked with Campbell's at a time when they were looking to innovate and the company was very open to hearing from stakeholders.
This week, Campbell's made several major announcements about improving the sustainability of their foods, including significant steps forward on going non-GMO and organic:
Campbell's will be launching several lines of organic kid's soups, and removing MSG from all their kid's soups. In August 2015, the company will introduce Campbell's Organic soup for kids in three chicken noodle varieties. The soups will be non-GMO and certified Organic.
Pepperidge Farm will be launching several organic wheat versions of their popular Goldfish Crackers. Look for organic wheat versions of regular, cheddar, and parmesan in the coming year. They still need to remove GMOs and go completely organic with the rest of their ingredients.
Increasing organics across other food lines, and increasing the number of organic products offered by Plum.
Campbell's announcements on organics were accompanied by statements that the company will be:
Removing artificial colors and flavors from nearly all of its North American products in the next three years.
Removing high fructose corn syrup from Pepperidge Farm fresh breads over the next two years.
Increasing the transparency of its ingredients, including a new website, What's in My Food (http://www.whatsinmyfood.com) that tells consumers the ingredients in their foods, starting with several major products.
Like all major food companies in the US, Campbell's has a long way to go to be truly sustainable. This week's announcements are an important step forward.
Green America will continue to engage with Campbell's with a goal of more products that are non-GMO and organic in the months to come.