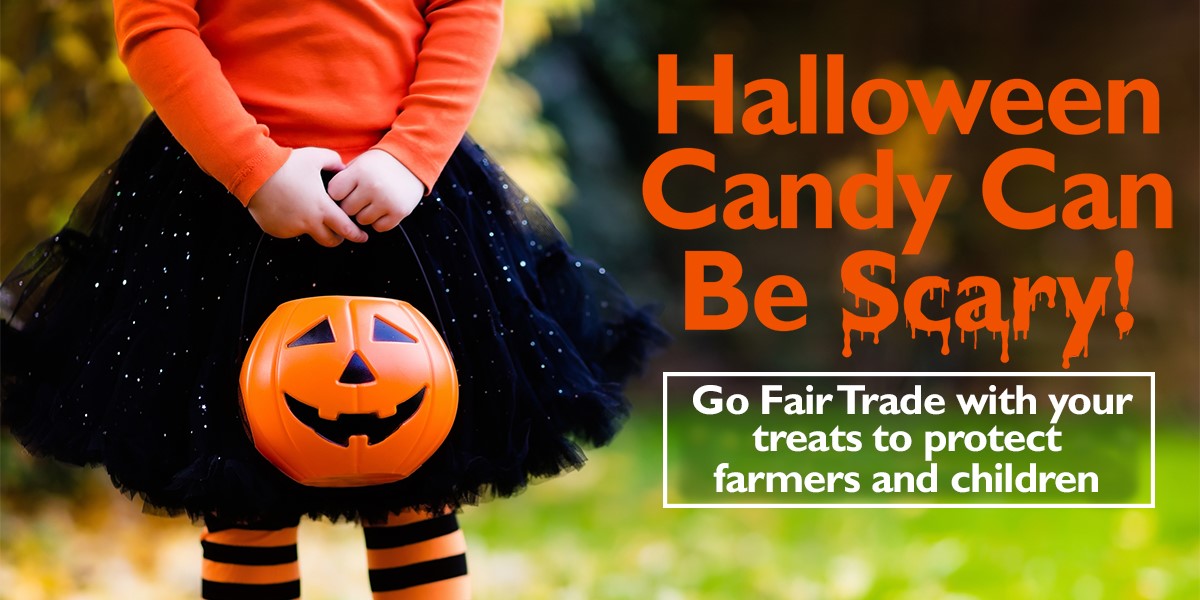 Go Fair Trade with Your Treats to Protect Farmers and Children
The scariest thing at Halloween should be the little ghosts, ghouls and goblins that come to your door asking for treats. Unfortunately, if you are handing out chocolates you picked up from the local grocery store, the treats you are giving out may be what's truly scary. That's because most chocolate comes from the west coast of Africa, where
farmers
are paid very little money for their cocoa, and child labor is rampant. It's possible that the chocolate you are handing out to a little kid comes from cocoa harvested by another child who is not much older. And, the cocoa trees were likely doused in pesticides, poisoning the land and the workers. Major chocolate companies take in billions of dollars in sales, while farmers and families that make the crucial raw material go deeper and deeper into poverty and the land is destroyed.
Shift Your Halloween Chocolate from Exploitation to Fair Trade
Green America actively campaigns against the giants of the chocolate industry to improve labor conditions on cocoa plantations and improve environmental sustainability, and thanks to tens of thousands of consumers like you speaking out, we are seeing progress. But, if you want to make sure that the chocolate you hand out this Halloween promotes fair labor, and is either organic or non-GMO verified, make sure to pick fair trade options this Halloween. Equal Exchange and Divine Chocolate are certified members of Green America's Green Business Network with delicious, fair trade options for Halloween treats.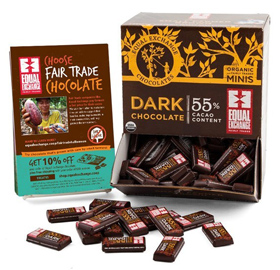 Equal Exchange is a long-time leader in providing fair trade chocolates from farmer cooperatives around the world. They have a Fair Trade Your Halloween kit ($30 + shipping) that features 150 bite-sized chocolate minis (either Dark Chocolate or Milk Chocolate) and 150 illustrated information cards about choosing Fair Trade. That way you can give tasty ethical chocolates to kids and information about why choosing fair trade matters to kids or their parents.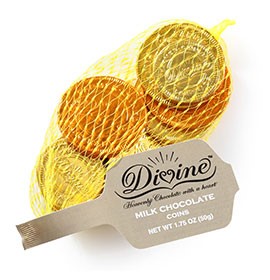 Divine Chocolate sources its cocoa from a women-led cooperative in Ghana that owns the largest share of the company. Divine is a leader in ensuring that it's the farmers that call the shots and every Divine chocolate bar that's sold strengthens the cooperative. Divine sells milk or dark chocolate coins in bags ($31.90 for a ten pack of bags) – perfect for displaying in a treasure chest at your door!
Make sure to order your fair trade chocolate early so it arrives on time, and order extra because you and your family will want to sample these Halloween treats yourselves. After all, the more you eat or give away, the more you benefit farmers.
--Written by Todd Larsen, Executive Co-Director for Consumer & Corporate Engagement