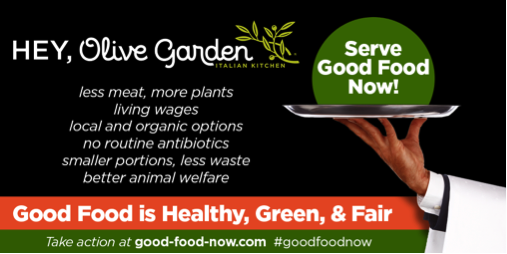 Green America and our allies are ramping up our Good Food Now campaign targeting Olive Garden. Help us make Olive Garden's phones ring off the hook, and tell the restaurant to pay fair wages and serve Good Food Now!
Here's how you can help:
1. Call Olive Garden Call Olive Garden's customer service line between 10:00am ET and 4:00pm PT (7:00am PT - 1:00pm PT), Monday through Friday. Call 800-331-2729. 
2. Comment Choose one of the scripts below to voice your concerns to Olive Garden about its unfair and unsustainable practices. Or create your own!
3. Share Share information about this campaign on social media. We've created several images and tweets you can share with your Facebook and Twitter followers here (scroll to the bottom of the page). You can also leave a comment for  Olive Garden on its Facebook wall.
Sample Scripts for Calling Olive Garden:
1. If you are concerned about Environmental Sustainability and Health: Hi, my name is _______, and I'm calling from __city, state__. I am concerned about the health of my family and the environment, therefore I am calling to request that Olive Garden offer more vegetables and more plant-based protein options on your menu. For example, I'd love spaghetti with veggie meatballs or ______. (Insert your favorite plant-based meal here). This would help save water, reduce your carbon footprint and provide more options for people who want to eat out and still get a tasty, healthy and nutritious meal. Sustainability is important to me, and more restaurants need to pay attention to the impact of their menus on people and the planet.
2. If you are concerned about Workers and your Local Economy: Hi, my name is_______, and I'm calling from__city, state__. I'm calling because I recently read reports that link your restaurants to poverty wages and horrible conditions for workers, including forced and child labor. It's important to me that the restaurants I eat at value their workforce and protect the people who produce their food. I hope Olive Garden will commit to paying fair wages to your servers and to ending exploitation in your supply chain. Additionally, Olive Garden should purchase more ingredients from local farmers. By paying workers fairly and sourcing locally, you can help families, provide fresher food to your customers, and in some cases lower your carbon footprint by reducing the distance you transport ingredients. Thank you.
3. If you are concerned about Animal Welfare and Sustainability: Hi, my name is_______, and I'm calling from__city, state__. I'm calling because I am really concerned about the treatment of animals and would like to see Olive Garden take a stand against factory farms. To do this, Olive Garden must source meat from suppliers who do not routinely use antibiotics on animals. At the same time, Olive Garden should choose suppliers who treat animals and farmers well, which is why I'd like to see organic meat and dairy on your menu, that come from smaller, local, independently-verified higher welfare farms, as well as more entree options without meat and dairy.
Why is this campaign targeting Olive Garden?
Olive Garden's parent company, Darden, is the nation's largest casual restaurant company, with $6.7 billion in sales. That translates to a lot of food, roughly 320 million meals per year—but unfortunately, most of it is not healthy for people, the planet, or animals.
An AP investigation found that Darden is sourcing from suppliers who use slave labor in Thailand, and many of the 150,000 workers who cook and serve in Darden's restaurants, including Olive Garden, are paid poverty wages, as low as $2.13/hour. Olive Garden also serves unhealthy, unsustainable meals. Many of its dishes include factory-farmed meat and dairy products that pollute the environment and are produced with routine antibiotics, hormones, and other harmful chemicals.
This past fall, Green America and 50 of our allies sent a letter to Olive Garden raising our concerns about the company's unsustainable sourcing and unfair treatment of workers, but the company has failed to make progress. Instead, it consistently puts shareholder profits over fair wages for employees and food that is good for people, animals, and the planet. Sign our petition>>
Learn more about the Good Food Now! Campaign>>