When Tim O'Neil approached fellow Mt. Tabor Neighborhood Association member Stephanie Stewart in 2009 about starting a solar buying cooperative in their suburban Portland, Oregon, community, she loved the idea.
"Literally within a couple of days, Stephanie had created a Web site and a logo," says O'Neil.
Then O'Neil and Stewart turned to Lizzie Rubado of the nonprofit Energy Trust of Oregon to help them put together workshops on installing solar panels. Originally, the new team expected to sign up 50 or so people, and they hoped that about 10-20 would go through with the installation. After all, 2008 saw only 38 solar panel installations across the entire city of Portland, Rubado says.
To their surprise, about 300 people signed up for what would become the Solarize Portland solar buying co-op. One-hundred and twenty homeowners installed solar panels that year.
"We were blown away at how many people came to the workshops," says Rubado. "Tim and Stephanie and I realized that this concept really jibed with people."
Solar buying cooperatives have sprung up across the country, as neighbors interested in going solar join together to share in the pre-purchase research and negotiate group discounts. With Energy Trust's help, the Solarize Portland co-op obtained bids from contractors, eventually choosing one that gave a very competitive price, offered a group discount, and fit with the community's values. In addition, the co op held workshops to help members take full advantage of local, state, and federal tax incentives for solar energy. So instead of paying $6,000 to $8,000 for each kilowatt of capacity (most systems are between one and three KWs), Solarize Portland members shave 70 to 80 percent off the cost of their solar systems.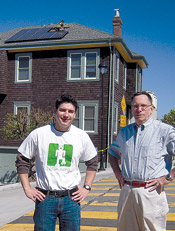 Ed Lortz (right) with One Block Off the Grid's (1BOG) CEO David Llorens in front of Lortz's home, which features nine solar panels he purchased at a discount through 1BOG.
After Solarize Portland's success, the city government stepped in to replicate the program in other areas. In total, the Solarize programs have installed 754 residential systems in Portland to date.
In the end, not only was going solar the environmental thing to do, but it also brought the community together. The model relies upon tried-and-true concepts of community organizing, O'Neil and Rubado say, with neighbors telling neighbors about the idea and helping each other through the process. Rubado likens the co-op to a "solar support group."
"I feel like it gave the neighborhood an identity," O'Neil says.
A Little Help from One Block Off the Grid
Solar buying co-ops are popping up all over, but if you don't already have one in your area, Pure Solar (formerly One Block off the Grid, 1BOG) may be able to help you start one. This company does much of the work involved in forming a solar cooperative for you—from finding interested people in your area to vetting potential solar companies to negotiating with those companies for the lowest prices on solar home systems. The majority of 1BOG customers see a savings of 15-20 percent, before tax incentives.
Ed Lortz, a resident of San Francisco, had spent a couple of years conducting his own research on switching to solar power, but he was still unsure about which solar company to purchase from. "I received about five different proposals from companies, and they were all over the map in terms of price," he says.
Then he attended a briefing about 1BOG, and he liked what he heard. 1BOG had already pre qualified the solar contractors and pre-negotiated a discounted group price for the briefing attendees. That price was significantly lower than what Lortz had been able to find on his own, and he was so pleased, he ended up getting nine solar panels through IBOG instead of the eight panels he'd originally planned.
Currently, 1BOG has hundreds of group deals in over 40 states throughout the US. If there's one in your area, all you have to do is sign up to enjoy a group discount on solar. If there is not a 1BOG deal in your city, the company can set one up. 1BOG representatives will keep you updated on how close your area is to having a group deal. While 1BOG will assemble your group, it doesn't hurt to spread the word to your neighbors. 1BOG also can help you hold a meeting to get people interested.
Once your area reaches a critical mass of around 100 potential participants, 1BOG will begin vetting and negotiating with solar installers. The more people who sign up for the program, the bigger and better the terms 1BOG can negotiate.
"Before we choose an installation company, we'll meet with them, view their facility, and take a look at some of their work to make sure they are the best for the job," says CEO David Llorens. "We want every customer to be satisfied."
Once 1BOG chooses a company, it provides personal consultations to educate members about the solar systems, including how they will operate and whether customers will receive a credit on their energy bill if their panels produce more energy than they use.
In addition, 1BOG's experts will help customers unearth all available federal, state, and local tax incentives. For Ed Lortz's nine-panel, 1.8 kw system, the original price with tax was $17,244 after the group discount. However, after taking advantage of tax incentives, his total out-of-pocket cost was just $3,600.
In addition, Lortz sees an average of $40 per month in savings during the summer on his energy bill, and $15 in monthly savings during the winter. This past May also brought Lortz more savings, as California just passed a net-metering law requiring utilities to pay for excess energy generated by solar panels.
"I am unbelievably pleased," says Lortz, who recommends 1BOG to anybody who asks him about going solar. 1BOG's program is open to all who own a home. Not all homes are ideally suited for solar panels, but 1BOG will take care of your home evaluation for free. It also offers solar leases.
"I liked the people at 1BOG," Lortz said. "I didn't feel any pressure, and they give you a good product. If you can swing it, now is the time to do it.
Originally published in our 2011 magazine issue, Growing Community Solar.