Green America gives Verizon an F on clean energy sourcing, commitment to improve, and emission reductions.
Green America Review Ranks T-Mobile Best with A-, Sprint Gets C, and AT&T C-; Verizon Gets "F" on Current Clean Energy Sourcing, Commitment to Improve, and GHG Emission Reductions.
Washington, D.C. – March 1, 2018 – Cell phone consumers concerned about clean energy and climate change will want to think long and hard about choosing or staying with Verizon, which got "F" grades across the board in a clean energy scorecard from Green America, the nation's leading green organization working to solve environmental and social problems with economic solutions. T-Mobile came in at the head of the class with an A-, followed by Sprint with a C and AT&T with a C-.
Available online at https://www.greenamerica.org/report-clean-energy-calling, the Green America scorecard shows recent movement by T-Mobile, Sprint and AT&T in response to Green America's Hang Up on Fossil Fuels campaign pressuring cell phone companies to improve their energy sourcing. Major telecom companies are starting to take action, beginning with T-Mobile's historic pledge to shift to 100 percent clean energy by 2021. Within days of the T-Mobile announcement, AT&T announced a deal of its own, "one of the largest corporate renewable energy purchases in the U.S.," and the company is purchasing 520 MW of power from two windfarms.
The telecom sector uses enormous amounts of energy each year. The four largest companies – AT&T, Verizon, Sprint and T-Mobile – collectively use more than 3 million MWh of electric power each year. AT&T and Verizon, the two leading U.S. companies in the industry, have a combined electricity usage that could power 2.6 million homes for a year. Yet, as of 2017, both companies were using less than 2 percent of alternative energy to power their massive servers, and this number is largely represented by natural gas. Sprint is using less than 1 percent renewable energy. Like AT&T, Sprint has pledged to improve its use of more climate-friendly fuel sources. Green America estimates that even with T-Mobile and AT&T's new contracts for wind power, the industry will still only be powered by 15% renewables this year.
"Verizon is flunking when it comes to adopting renewable energy, and AT&T and Sprint aren't doing much better," said Todd Larsen, executive co-director of Consumer and Corporate Engagement at Green America. "T-Mobile deserves credit for stepping up and being best in its class. To reduce our climate emissions at the speed and scale necessary to address the climate crisis, all companies should shift to 100 percent renewable energy within the next decade. If companies like Apple and Google can achieve 100 percent clean energy, telecom companies can too."
Green America's Wireless Scorecard
Based on publicly available data and information provided directly to Green America by companies, each of the companies are is graded on core metrics related to efficiency, clean energy and greenhouse gas emissions reductions.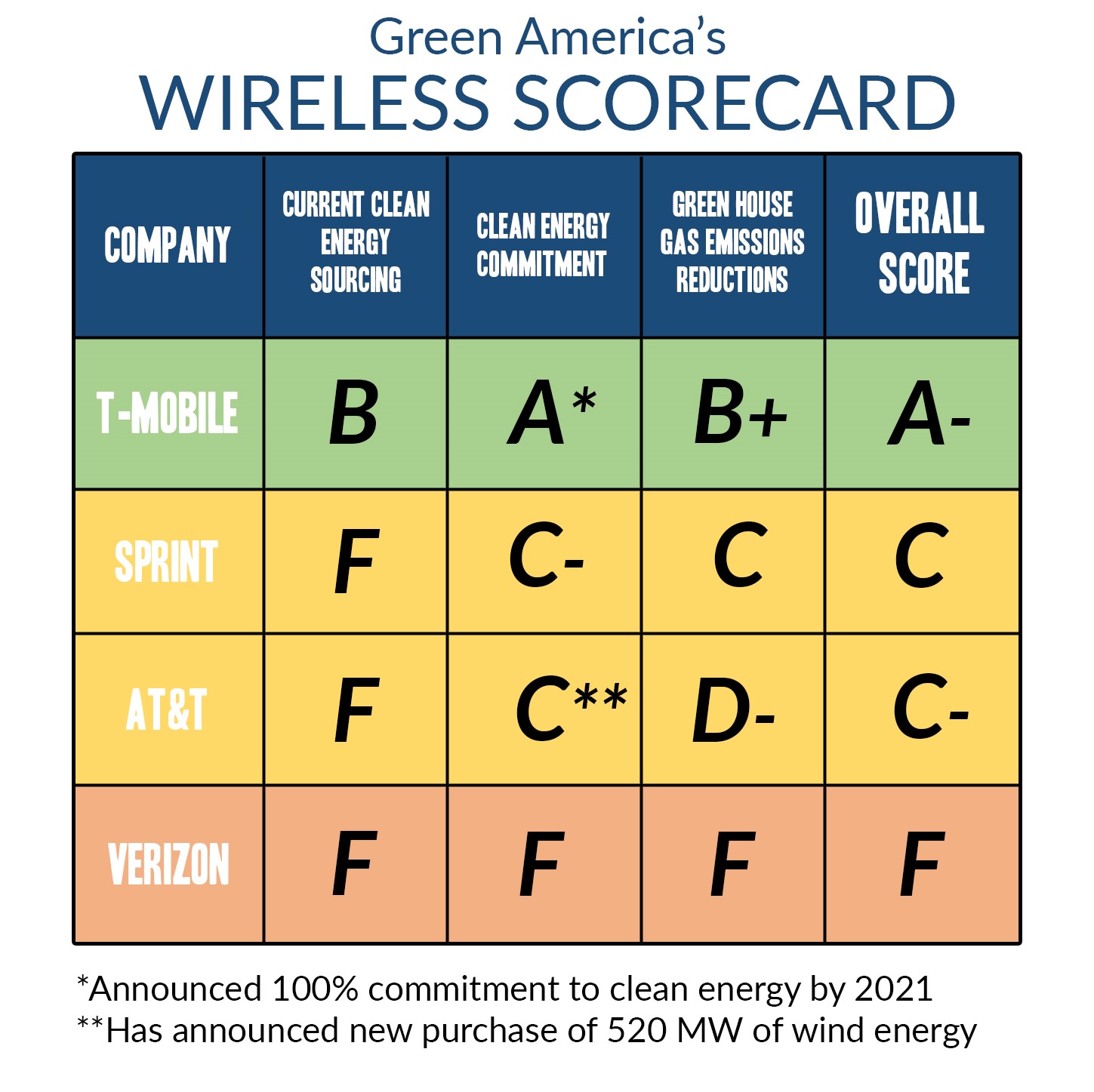 "The availability of wind and solar energy in the U.S. is growing while the cost is shrinking," said Beth Porter, climate campaigns director at Green America. "T-Mobile said it will save $100 million from the shift to renewables. On top of reducing carbon emissions, moving to renewable energy is a sound business decision."
From the report: "Only one major telecom company, T-Mobile, has made a commitment to move to 100 percent renewable energy. Shortly thereafter, AT&T announced the purchase of 520 MWh of wind energy, which we estimate will take its overall consumption of clean energy to approximately 20 percent of total energy used. Verizon and Sprint are both utilizing less than 2 percent renewable energy. Even with its stated commitments to double its renewable energy commitments over the next decade, Verizon will still be using less than 4 percent clean energy. Verizon has not made any notable commitments to clean energy or greenhouse gas reductions and is the laggard in the telecommunication industry on this issue.
"AT&T, Verizon, and Sprint have all lowered their energy intensity (increased efficiency) over the past decade. … However, in comparing the four companies regarding their energy intensity in relation to revenues or customers, AT&T and Verizon use far more energy per revenue dollar or per customer than Sprint or
T-Mobile. …
"AT&T and Verizon have not set goals for reducing overall emissions. Sprint made a commitment to reduce overall emissions by 20 percent by 2017, and more than doubled that target with a reduction of 47 percent. With its recent commitment to 100 percent renewable energy, T-Mobile will realize an unspecified reduction."
ABOUT GREEN AMERICA
Green America is the nation's leading green economy organization. Founded in 1982, Green America provides the economic strategies, organizing power and practical tools for businesses and individuals to solve today's social and environmental problems. http://www.GreenAmerica.org
MEDIA CONTACT: Max Karlin for Green America, (703) 276-3255, or mkarlin@hastingsgroup.com.
EDITOR'S NOTE: Video can be found here of T-Mobile CEO John Legere's 100 percent renewable announcement and support for Green America's Hang Up on Fossil Fuels campaign at https://youtu.be/XJgTB4afPvI.