Green Business Network Certification
Green America certifies businesses that are committed to using business as a platform for social change. Since 1982, Green America has evaluated over 8,000 small businesses.
Green businesses adopt principles, policies, and practices that improve the quality of life for their customers, employees, communities, and the planet. The members of the Green Business Network are changing the way America does business.
We've helped leading green companies like Seventh Generation, Honest Tea, and Clif Bar take off in the marketplace. We connect people to entrepreneurs building sustainable enterprises from the ground up and Main Street businesses that serve their communities.
Green America certifies businesses that are:
Actively using their business as a tool for positive social change;
Operating a "values-driven" enterprise according to principles of social justice AND environmental sustainability;
Environmentally responsible in the way they source, manufacture, and market their products and run their operations and facilities;
Socially equitable and committed to extraordinary practices that benefit workers, customers, communities, and the environment; and
Accountable for their work by continually improving and tracking their progress, and operating with transparency in every facet of their business.
We certify green businesses with rigorous Green Business Standards in over forty industries. All companies seeking Green America's Green Business Certification must meet Green America's standards for all businesses, and also meet or exceed all required standards in their industry.
Explore Green America's Green Business Standards »
About the Green America Seal
Look for the Certified Business seal to find green products and services from thousands of businesses committed to social and environmental responsibility.
Certified
Certified Green Businesses are leaders in the green business field and certified under Green America's rigorous standards.

Businesses earn this seal after staff at Green America's Green Business Network reviews and approves their application.

Gold Certified
Gold Certified Green Businesses go above and beyond our standards in every facet of their work. They are leaders in their industries that embed social responsibility into the DNA of their company.

Businesses earn this seal after completing additional work beyond general certification. Their application has been reviewed and approved by the Standards and Certification Committee, appointed by Green America's Board of Directors.
Our Green Business Certification not only helps you find green products and services, but it also helps green businesses implement ongoing sustainability work smartly and strategically using our online platform. We provide the tools to help businesses turn their social and environmental mission into action.
Businesses: Discover how to get certified »
Green America's Green Business Standards have been evolving since the 1980s. In 2014, they were revised with input from Certified Green Businesses, allied organizations and certifying agencies, and government and academic institutions.
Standards that apply to all companies that bear Green America's Green Business Certification include:
Use of a green office or facility
Transparency in their return or refund policy
Declaration of commitment to social and environmental values
Commitment to accurate representation of their products and service; no greenwashing
Our Standards Committee
Businesses that have attained the Gold Certified Business Seal have successfully completed an evaluation by the Green America Standards Committee.
The Green America Standards Committee conducts reviews using data provided by the business and independent sources to certify that a business has moved beyond general sustainability actions into a deeper focus on their core business area.
Operating since 1982, the Standards Committee is appointed by and reports to Green America's Board of Directors.
Previous Seals
We redesigned the Green America Seal in 2016 for Green America's Green Business Certification with a fresh new look that profiles the social and environmental attributes of our green businesses to consumers.
Our new design reflects the goals of the FTC Green Guides, aimed at ensuring that environmental claims made by businesses are legitimate and green. Green America's Green Business Certification helps businesses go green every day to build an economy that works for people and the planet.
The following Seals previously represented our Green Business Certification, and you may still see them in the marketplace as our certified businesses make the switch: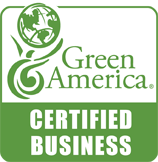 Discover: