Why "Skip the Slip and decline paper receipts? 
Paper receipts have unnecessary environmental impacts and expose workers and customers to toxic chemicals. Every year in the United States, receipt use consumes over three million trees and nearly nine billions of gallons of water. Receipt production creates nearly 300 million pounds of solid waste and emits the greenhouse gas equivalent of over 400,000 cars on the road each year.   
 
Receipts also pose exposure to toxic chemicals as most thermal paper used for receipts is coated with Bisphenol-A (BPA) or Bisphenol-S (BPS), endocrine-disruptors which serve as color-developers to make the text appear on receipts. These toxic chemicals are linked to reproductive impairment, type 2 diabetes, thyroid conditions, and other health concerns. 
In this report, we discuss the updates and key findings listed below in greater detail, as well as alternatives to toxic paper receipts and suppliers of these alternatives.
CVS Makes Progress on Receipts  
In 2017, our Skip the Slip campaign began urging CVS to address its wasteful, BPS-covered paper receipts. Thousands of individuals signed our petition requesting that CVS switch to phenol-free paper and boost its digital receipt program reduce paper waste. This campaign led to a dialogue between Green America and CVS on its receipt practices.  
In 2020, CVS announced the switch to phenol-free paper in all 10,000 stores and increased promotion of its digital receipt option.  The company reports that increased digital participation has led to saving 49 million yards of receipt paper – more than enough paper to circle the globe. 
More details on report page 5.
Reducing paper receipts and other disposable items can be good for business.  
Analysis from Grand View Research shows that the consumption of thermal paper for receipts has been increasing in the United States and worldwide each year but decreased in 2020 due to the COVID-19 pandemic. In 2019, the U.S. consumed 280,000 metric tons of paper for receipts but estimates show that this will decrease to 252,000 tons this year.
The cost of thermal paper has continued to rise due to a shortage of leuco dye used in thermal paper. In 2019, the retail sector spent more than $312 million on receipt paper: a high cost for items that are frequently discarded by customers after leaving the store. This cost increase is one reason why reducing the automatic printing of unwanted paper receipts can cut costs.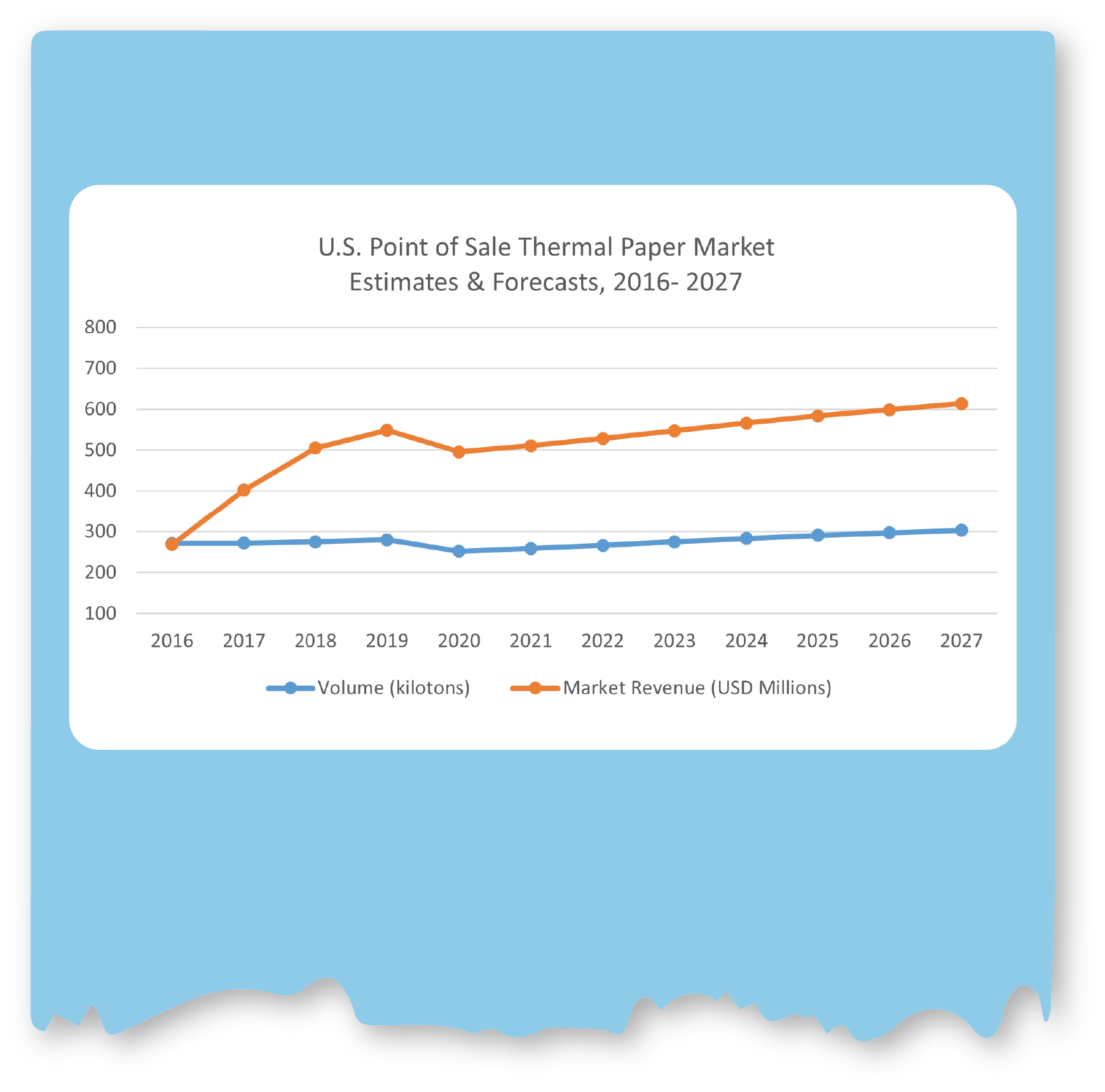 More details on report page 4.
Consumer Preference Data  
In 2019, Green America surveyed Americans on receipt preferences and learned that 89 percent of respondents would like retailers to offer digital receipts as an option. Nearly 40 percent of respondents have already signed up for digital receipts from stores that offer that option. The largest support for digital receipts came from those identifying as 44 years old or younger. Most respondents estimated that they throw away or lose over half of paper receipts that they receive and a third of all respondents want to see companies do more to reduce receipt waste.
These findings are in line with the goals of Skip the Slip. We want businesses to offer a digital option, phenol-free paper receipts by customer request, and an option for no receipt so that customers can have the choice. 
Click here for full survey results.
Barriers to Digital Receipts  
Although Green America advocates for more digitization and e-receipts, we recognize that there are customers who experience barriers to using digital.  
Paper receipts can serve as an immediate proof of purchase, and Black and Brown shoppers are demanded by store employees to prove purchase at disproportionally higher rates.  All customers have a right to shop in a store, including exiting the store, without fear of harassment or racial discrimination. Green America will urge retailers to adopt anti-discriminatory practices and advocate for a more equitable and inclusive society. 
The global pandemic has further exposed gaps in internet access within communities.  According to a 2018 Pew Research study, nearly one-third of Americans still do not have internet access at home. The digital divide is mainly experienced among older populations and less affluent ones. In a world where technological innovations are becoming more significant every day, all individuals should have easy access to the internet.  
More details on report page 11.
Company Scorecard on Receipt Practices 
Green America groups selected retailers and businesses by in-store receipt practices in the scorecard below. Data for the scorecard was gathered from: direct contact with company, publicly-available information, or research published by The Ecology Center or the Center for Environmental Health.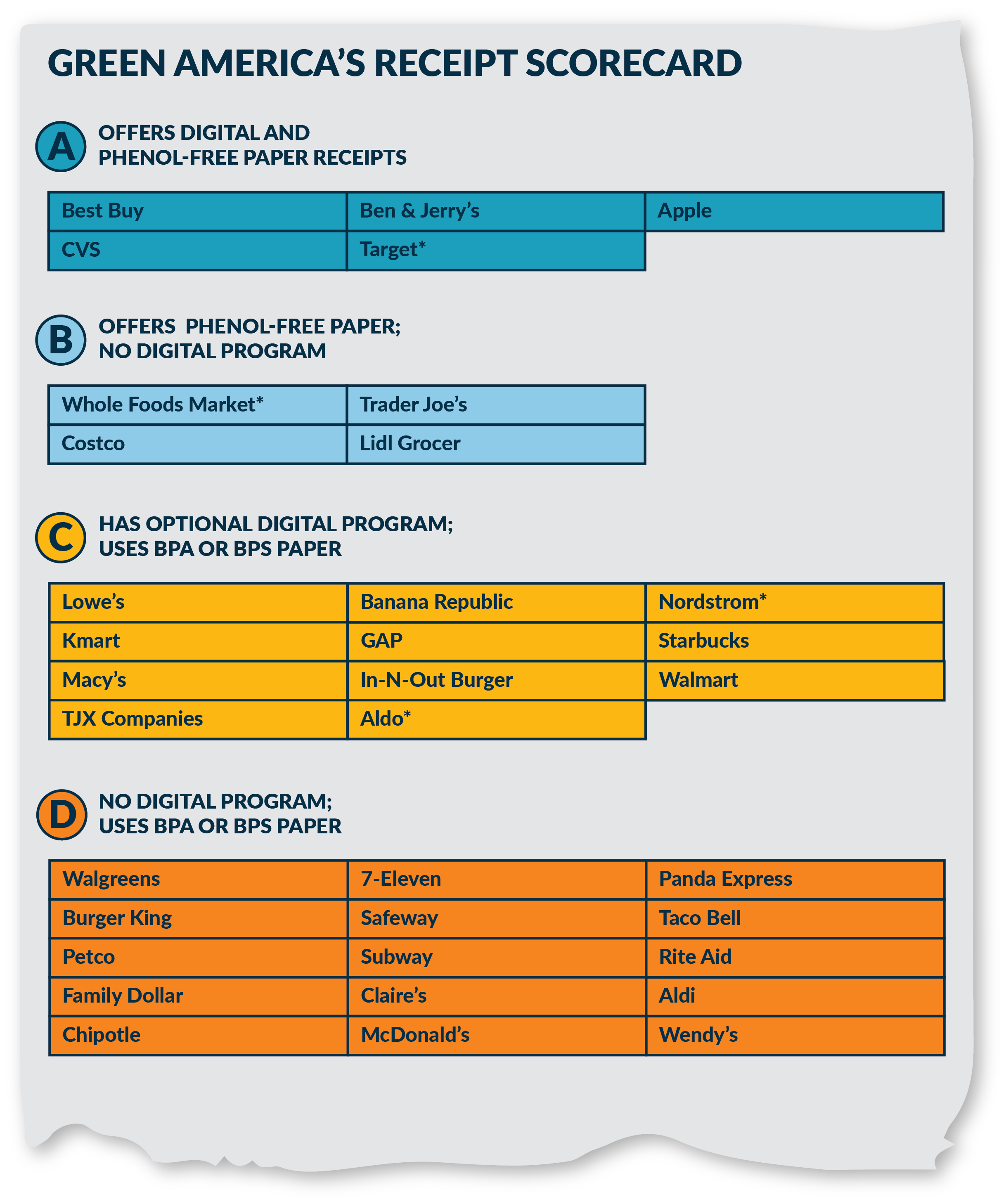 *This denotes a company that offers a no receipt option or is exploring other receipt practices. 
 
Past editions of the Skip the Slip report are archived here.