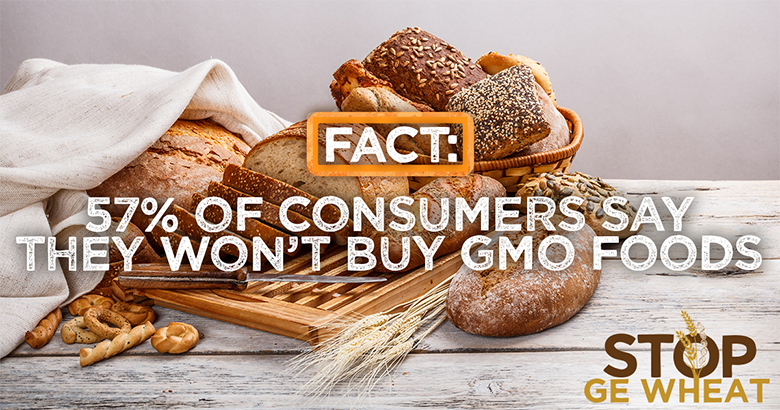 GE Wheat Is Not Strategic for Business
The introduction of GE wheat has major economic implications that could drastically impact businesses in the US and abroad that rely on wheat as a major ingredient. Wheat is a major export crop for the United States, with over 25 million metric tons exported this past year, valued at roughly $8.1 billion. As many countries will not import GE wheat, due to safety concerns, its introduction would significantly threaten the American export market. Introducing GE wheat will also impact domestic availability of non-GE wheat, an impediment to the growing market for non-GMO (genetically modified organism) and organic.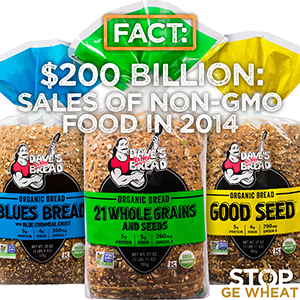 US consumers are increasingly opposed to GE foods and are rapidly increasing their purch asing of non-GMO and organic products. At the same time, labeling of GMOs is becoming more common as consumers look to avoid purchasing products containing GMOs. These changes are leading companies to shift their ingredients to non-GMO and increase organic offerings. With growing consumer demand for organics, it is counterintuitive to introduce GE wheat.
The US supply chain is not prepared to handle the segregation of non-GE and GE wheat. A 2010 economic analysis shows that the cost to establish multiple supply chains would greatly increase the price of wheat. Yet, crop segregation would be the only way to prevent contamination of the wheat supply. In 2013, a number of unapproved GE wheat plants were found in a field in Oregon, resulting in an immediate drop in the price of US wheat and a rejection of US wheat from top importing countries.
Increased expenditures on farms and throughout the supply chain would lead to an overall increase in the cost of wheat to businesses making wheat-based products. Pursuing GE wheat at present is not strategic for businesses.

Are you a business owner?
If your business is interested in committing to not purchase GE wheat, should it enter the marketplace, or is interested in making a statement expressing your concerns on this issue, please contact Jes Walton, Food Campaigns Director, at jwalton@greenamerica.org.