When you invest your money in community investing institutions, you create enormous positive impacts in communities across the country and around the world.
In the fall of 2008, when the father of her children was incarcerated, Leanne Nunley of Wytheville, Virginia found herself in a bad situation. As a single mother and now the sole bread-winner, Nunley worked hard to make ends meet, but she and her children couldn't find permanent housing. They bounced from one temporary living situation to another.
Nunley believed this wasn't a suitable life for her children, Ariana, Alijeh, and Acelon (then 3, 4, and 6), so she was determined to establish a stable household for her family. She approached a local nonprofit organization called HOPE (Helping Overcome Poverty's Existence) to see if she could find a program that would help her pay her rent. The counselors at HOPE gave her a shock. They looked at her bills and told her they thought she could buy a house for the same or even less money than she had been paying on rent.
"I didn't think it was possible," says Nunley, who first had to work with HOPE on improving her credit. "My credit took the longest time to get cleaned up — about a year — because I had to pay a little here and a little there, and then had to wait for my taxes to come in and pay the rest of it off."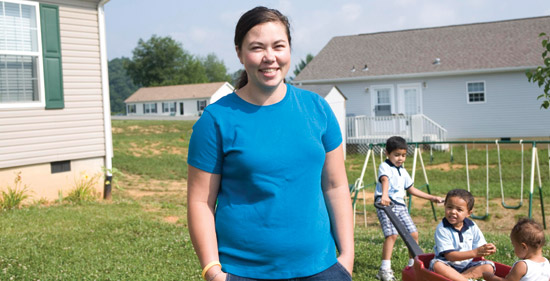 But HOPE continued working with Leanne as she made progress toward greater financial security. Financed by the Kentucky-based Federation of Appalachian Housing Enterprises (FAHE), HOPE is one of many of FAHE's housing partners who work together to make affordable housing available to low income residents throughout central Appalachia. When Nunley had her financial house in order, HOPE then connected her with FAHE for the loan that would make home-ownership — and stability — a reality for her family.
With the FAHE loan, Nunley was able to buy a home built by HOPE in the new Deerfield subdivision in Wytheville. Designed following a Low-Impact Development model, the Deerfield neighborhood is unique for an affordable housing development. Developments built on this model use soil- and plant-based filtration techniques to remove pollutants and protect the community's ground-water. FAHE partners also pursue energy-efficient housing developments, to help minimize future energy bills for their lower-income borrowers.
In addition, Nunley receives regular tips and resources from HOPE, such as home maintenance tips for protecting her investment, and financial tips on how to balance a household budget and stay on top of mortgage payments to avoid foreclosure. The personal, high-touch methods employed by community development lenders have been key in keeping individuals like Nunley and organizations like FAHE steady during turbulent economic times.
For example, FAHE president and CEO Jim King reports that while Wall Street and conventional lenders went into financial meltdown triggered by high foreclosures on their irresponsible mortgage lending, FAHE's foreclosure rate for 2009 held steady at a low one percent.
"This is a great program," says Nunley. "I know that the economic times are tough right now and that a lot of organizations are losing their funding, but this program really helps people. I would have never been able to get a loan with that low of an interest rate and afford a house of my own [without FAHE]."
FAHE is just one of many housing-focused partners who provide loans to individuals like Nunley with funding generated by the Calvert Foundation's Community Investment Notes. Individuals can invest in a Community Investment Note through Calvert Foundation, which then lends to several community development institutions, like FAHE, all at once. As the loans are repaid, the capital is lent out again, multiplying the social impact of your investment.
"We make it possible for everyday people to place investment dollars where they're needed most – creating jobs and homes for families in low-income communities," says Lisa Hall, Calvert Foundation's President and CEO. "While we have been bringing this type of investment opportunity to investors for more than 15 years now, this is particularly relevant now, as the economic downturn has taken its toll on so many people."