Jennifer Zorland-Allison had checking and savings accounts with mega-bank Bank of America for, as she puts it, "over 20 stinkin' years"—but she finally got fed up this year when the banking giant announced that it would once again increase its monthly fee on checking accounts for those without a monthly direct deposit or average balance of $1,500.
"Even though it didn't apply to me, I considered it an attack on the working poor," says Zorland-Allison, "I just couldn't take it anymore!"
 So Zorland-Allison got ready to make the switch. Although she'd been wanting to free herself from Bank of America for years, she was discouraged by what she describes as "hassle, hassle, hassle." But all that hassle seemed easier to overcome when Zorland-Allison checked out Green America's Break Up With Your Bank toolkit (GreenAmerica.org/go/toolkit).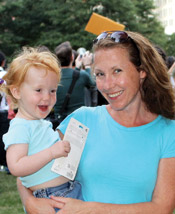 "[The toolkit] helped me realize that there were no additional barriers to the ones I'd anticipated," recalls Zorland-Allison. And, she says, the toolkit also gave her "a lot of information about alternate banking/credit unions" to make the switch to community banking even easier.
Because she does all of her banking online, including paying her bills electronically, Zorland-Allison was worried about her paycheck direct deposit being switched over in time to pay her bills. So she decided to open her new account at B.O.N.D. Community Federal Credit Union in Atlanta and wait until she had enough money in the account to cover two months worth of bills before closing her old account.
B.O.N.D., which is a certified Community Development Financial Institution, has a 30-year history of helping low-income residents buy their own homes and put down roots in their neighborhood. In the meantime, she decided to get her baby daughter on the right path by opening up a new savings account at B.O.N.D. for her. "I did not want her associated with Bank of America at all!" says Zorland-Allison.
When her new account was ready to go, Zorland-Allison got to take the step she'd been waiting for: She called Bank of America to close her account and tell them "where to stick it." She ended up speaking to a sympathetic customer service representative who was all-too familiar with Zorland-Allison's type of complaint. She then used the letter template in Green America's toolkit to write to Bank of America CEO Brian Moynihan, explaining why she was breaking up with his bank.
As for her experience with B.O.N.D. Community Federal Credit Union, Zorland-Allison couldn't be happier.
"They rock!" she exclaims. "Wow—not getting treated like cattle is taking some getting used to!"
And with B.O.N.D.'s long history of meeting the needs of underserved Atlanta residents, Zorland Allison now feels like her banking is having a positive impact on others.
"I feel awesome!" she says, "I feel empowered. I feel like I am helping and being a part of my community. I am telling everyone I know to make the change and providing Green America's materials as a resource. WOO-HOO!"
From Green American Magazine Issue