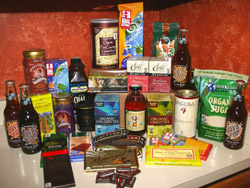 What is Fair Trade? Fair Trade is a system of exchange that honors producers, communities, consumers, and the environment. 
Fair Trade helps ensure that farmers and artisans in the developing world receive a just price for their products, have direct involvement in the marketplace, and uphold environmental and labor rights standards. The system builds real and lasting relationships between producers in the Global South and businesses and consumers around the world.
For more on defining Fair Trade, click here and be sure to check out Green America's Guide to Fair Trade. You can also visit the Fair Trade Resource Network.
What does this mean for companies applying for Green America's Seal of Approval?

At Green America, we've been working to promote Fair Trade for quite some time. While we're delighted that the market has grown, so has the level of confusion about what it means and the number of companies who claim to adhere to its principles.
Green America believes that every business marketing itself as Fair Trade should be a member of, or certified by, one of the following organizations:
We are proud of the fact that Green Business Network members pay their workers fair and living wages; ensure safe and healthy working conditions; provide valuable benefits such as health insurance and maternity leave; and foster worker voice on the job. These are the essential ingredients of a socially responsible and fair labor business, but not necessarily a Fair Trade one.
A critical step in our screening process is to review a business's Web site and promotional materials. We want to help make sure that the right terminology is used, full transparency is offered, and encourage companies to view their site as an educational space.

Here are examples of Green Business Network members who do this really well: