The 2015 State of Green Business report was just released, detailing the environmental performance of large companies around the world. The report, produced by GreenBiz and TruCost, illustrates the true costs of pollution, ecosystem depletion, and health impacts of unsustainable natural capital consumption by corporations and the alarming rate at which they are growing.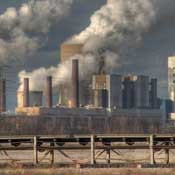 According to the report, environmental costs, like greenhouse gas emissions and water abstraction (removing freshwater from the natural water cycle, and thus preventing its future use), would render most businesses unprofitable if they were responsible for paying for the impacts. The report found that environmental costs tallied up to $1 trillion (or 6.2% of GDP) for companies in the US, and $3 trillion worldwide.
The authors state, "Over the past five years, the proportion of company profit at risk consistently exceeds 100 percent of their profit… This means that, on average, companies would be unprofitable if they had to pay the actual costs associated with the commodities they consume and pollution they generate."
It's not all bad news, however. The report finds that the level of sustainable investment has been growing considerably in recent years. According the 2014 Trends Report published last November by US SIF: The Forum for Sustainable and Responsible Investment, cited in GreenBiz's report, sustainable assets totaling $6.57 trillion represented almost 18% of the $36.8 trillion in total assets under management, a 76% increase over 2012. Social investors, joined by non-profits and growing consumer concern, are changing the ways that companies value natural resources. As a result, more companies are adopting the concept of 'natural capital,' which refers to "the stock of resources and ecosystem services on which all companies depend for their success."
Fresh water for industrial processes, and energy produced from fossil fuels (and its connected value to the clean air it pollutes) are the two largest forms of natural capital discussed in the report. Most companies are using these forms of capital at unsustainable levels. Due to rising shareholder and consumer concerns, companies are increasingly examining their businesses along their entire supply chain, where most natural capital expenditure occurs. Additionally, science-based emissions reduction goals are becoming much more commonplace. Now, to really address the problems of overusing natural capital, corporations need to take a leadership role in reducing their imapcts.
It is up to businesses to address their overall sustainability by assuming liability for their stranded assets (including certain fossil fuel reserves), adopting open and distributed sustainability systems, providing transparency along supply chains, and most importantly, supporting policies that advocate for sustainable business practices across the board.