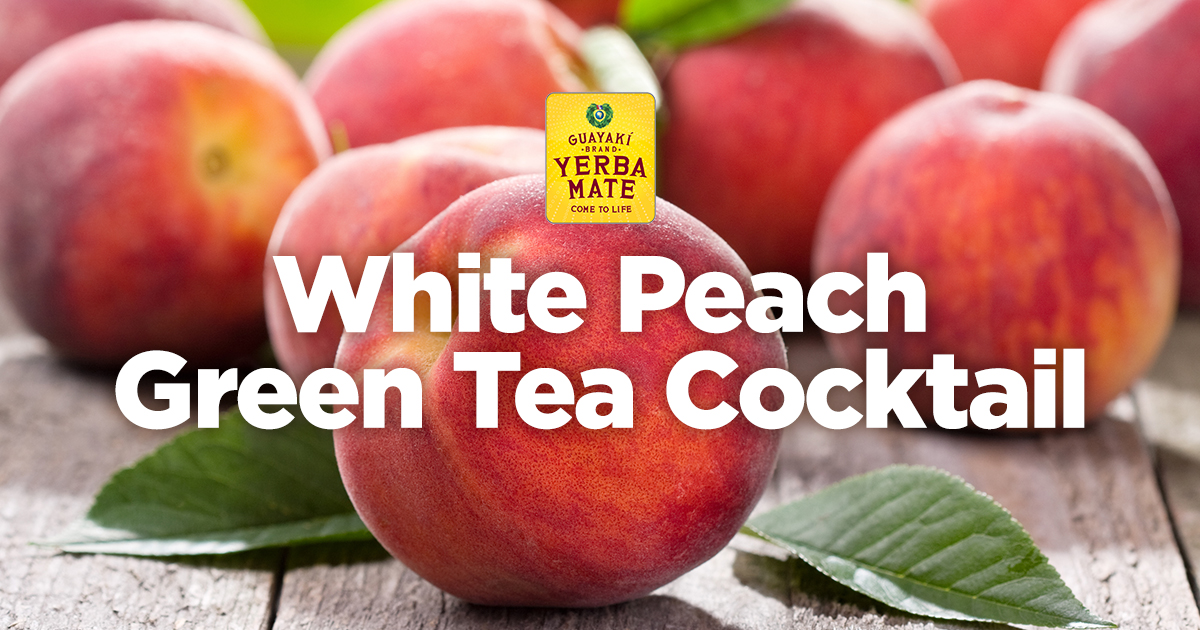 Summer meals are always enhanced by something sweet and chilled to sip on. This cocktail recipe combines the freshness of green tea and seasonal white peaches just wonderfully and is sure to be a crowd favorite.
White Peach Green Tea Cocktail* slightly adapted from recipe by Anna Lee C. Iijima via Wine Magazine
* Use organic, non-GMO ingredients whenever possible.
Ingredients:
2 teaspoons Guayaki Greener Green Tea Mate
1 teaspoon powdered sugar
1 lime, cut into wedges
3 tablespoons hot water
Ice cubes
½ fresh white peach
1 ½ ounces vodka
2-3 teaspoons fresh lime juice
Simple syrup, to taste
Preparation:
Steep 1 tea bag (or 1 teaspoon) of the green tea in the hot water for 1-2 minutes to produce a strong green tea. Pour the hot tea into a mixing glass. Add ice cubes to dilute and gently chill the tea.
Mix 1 teaspoon of green tea leaves and powdered sugar on a saucer or small plate or flat bottomed bowl. Cut a notch into the flesh of lime wedge and coat the rim of the martini glass in lime juice by rubbing the lime around the rim. Dip the glass into the green tea and sugar mixture until the edge is rimmed evenly.
Cut the white peach into bit-size pieces. In a shaker, muddle the peach pieces into a soft pulp. Add the vodka, chilled green tea, lime juice, and simple syrup (can be made by combining equal parts sugar and water in a saucepan, heat over medium heat until sugar dissolves) to taste based on the ripeness of the peaches and strength of the tea. Shake well, strain, and pour into the glass. Take a seat, put your feet up, cheers, and enjoy!
*You could also make an alcohol-free version of this with the chilled green tea, lime juice, muddled peach, and simple syrup. Just up the proportions of green tea, lime juice, and peach, add simple syrup to taste.
This post is sponsored by Guayaki Brand Yerba Mate. Thank you for supporting the brands that support us. GMO Inside is a non-profit campaign and we are thankful for the brands that support our work to change the food system.