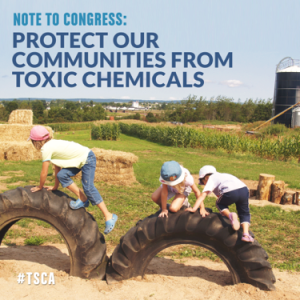 The House and Senate have now both passed the reconciled toxic chemical control legislation – the House bill on May 24, 2016 by a vote of 403 to 12 and the Senate bill on June 7, 2016 by voice vote.  The legislation will next move to the President's desk for signing.
Advocates for human and environmental health, environmental justice, worker safety, sustainable business, cancer organizations, parent groups, and many others have been working for years to strengthen the ineffective Toxic Substances Control Act (TSCA) of 1976. TSCA has been an abject failure at controlling toxins in the marketplace and protecting communities. It failed even to regulate asbestos despite mounting evidence of its danger. With approximately 85,000 chemicals in use, TSCA has banned only five of them.
With such an egregious record and with strong coalitions in support of fundamental reform, many hoped that the policy changes needed would finally be forthcoming. The new legislative comprise, however, has several shortcomings that undermine our nation's ability to protect people and the planet from dangerous chemicals. These weaknesses include:
* Reducing states' authority to regulate toxins;
* Limiting the regulation of toxics in imported consumer products;
* Funding that still falls short of what the Environmental Protection Agency needs to review a higher number of chemicals in a more timely way.
"Effective toxic chemical control is long overdue, leading to unnecessary illness, suffering, and death. Despite that, tremendous effort has been needed to get toxic chemical control on Congress' agenda. The new toxic chemical control policy, while making some improvements, falls short of what's fully needed to protect people and the planet," said Fran Teplitz, Green America's executive co-director for business and policy. She added, "Green America will continue to mobilize consumers and businesses in support of the strongest safeguards against toxic exposures and in support of green chemistry innovations."
"Consumers increasingly understand that products we use every day, including those we put on our bodies and on our children, are not safe. U.S. policymakers have taken some steps, but more is needed if our nation is serious about regulating dangerous chemicals," said Todd Larsen, Green America's executive co-director for consumer programs.
Improvements in the current legislation include:
* Requiring the EPA to take into account chemicals' impact on vulnerable populations such as children and pregnant women;
* Removing the role of "cost effectiveness" in evaluating whether a chemical is safe.
Human and environmental health, not chemical industry profits, must drive control of toxic chemicals while businesses innovate and develop safer alternatives.