The trendline for socially and environmentally responsible investing (SRI) continues to impress, with the latest data on SRI assets under professional management in the US reaching $12 trillion in 2018 according to the latest research from the Forum on Sustainable and Responsible Investing (US SIF Foundation).  This is an increase of 38% in the last two years.
On a biennial basis, US SIF tacks investment in a variety of social investing strategies:
Screening companies in or out of a portfolio based on their impacts on people and the planet (among institutional investors this is also referred to as "ESG integration" – the process of including Environmental, Social, and corporate Governance criteria into investment decision-making);
Shareholder action (filing shareholder resolutions) by concerned investors to pressure companies to improve their conduct on a wide array of issues;
Community investing to support low-to-moderate income communities in need of support for job creation, affordable housing, neighborhood services, and more.
Let's drill down on the latest concerns of the institutional investors and asset managers researched in the 2018 Report on US Sustainable, Responsible, and Impact Investing Trends (Trends Report):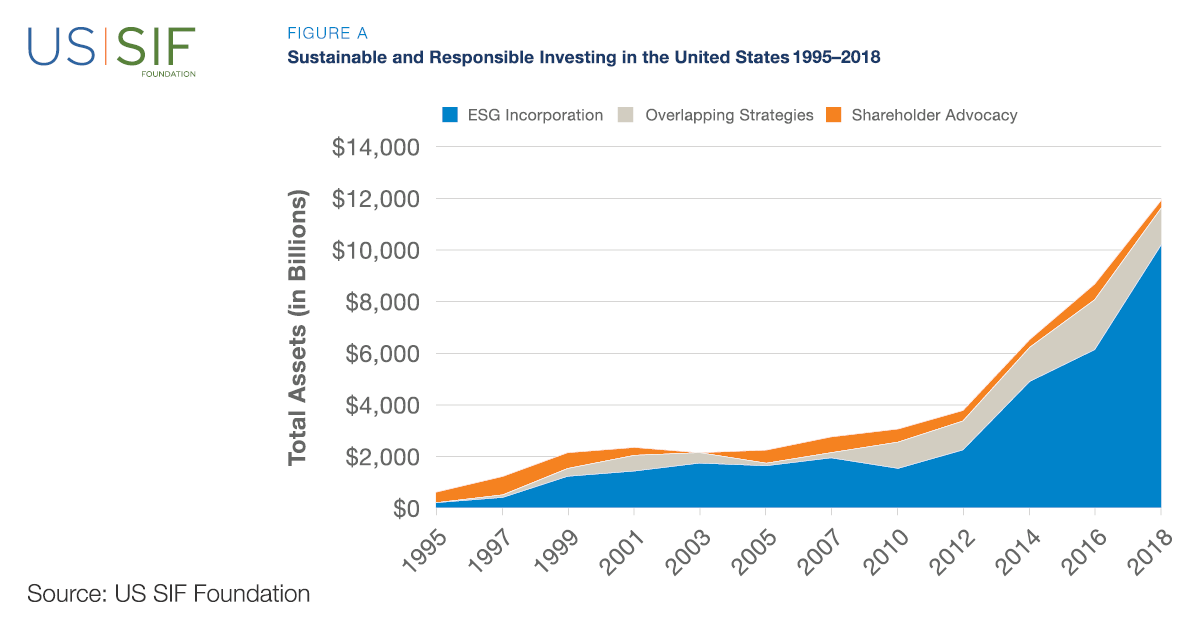 Key Portfolio Screening Issues
The top SRI or ESG concerns of asset managers and of institutional investors are now climate change, tobacco, risk from repressive or terrorist regimes, human rights, transparency and anti-corruption issues, corporate board issues, and excessive executive compensation.
As gun violence has increased, investors have also responded to that crisis by restricting their investments in firearms; $1.9 trillion in assets now includes restrictions on firearms and military weapons, which is nearly five times greater than in 2016.
In addition, socially responsible investors are also now considering how their holdings can support the United Nations Sustainable Development Goals. These seventeen goals are intended to guide international development through 2030 and address a range of strategies from eradicating poverty to climate action to peace-building to education. The Trends Report polled money managers for the first time on whether the UN Sustainable Development Goals motivated their interest in SRI. Money managers representing $2.15 trillion in SRI/ESG assets affirmed that the UN goals were a motivating force in their pursuit of SRI as did institutional investors representing $4 billion in SRI/ESG assets.
The next level of data needed to understand the nature and impacts of SRI assets held by money managers, where SRI asset growth is considerable, is greater transparency on what these undisclosed holdings actually are and the processes that money managers use to integrate SRI/ESG factors into their investment process.
Assets Using Screening or SRI/ESG Criteria: $11.6 trillion ($8.1 trillion in 2016)
Key Shareholder Issues
Individual or institutional shareholders with at least $2,000 worth of stock that's been held for at least a year can file shareholder resolutions. Resolutions are advisory proposals that inform corporate management about important investor concerns that affect the well-being of the company and broader society. The top issues addressed by institutional resolution filers most recently focused on "proxy access" (the ability of shareholders to directly nominate candidates to serve on corporate boards); corporate political action (lobbying and/or making political contributions); climate change; labor issues; executive compensation; and human rights.
Another trend among shareholder resolution filers is attention to racial, ethnic, and gender diversity at companies. Socially responsible investors are concerned about diversity at all levels of companies, including board leadership, and are underscoring the business case for diversity in senior management.
Filing resolutions is an important way to educate companies, investors, the public, and the media about emerging issues where a change to corporate conduct and policy can make a difference.
Notably, the number of resolutions that receive high levels of support is on the rise. Eighteen resolutions on ESG issues that were opposed by management received majority support from 2016-2018 while only three such resolutions received majority support between 2012-2015. While these numbers may seem small, it is important to understand that resolutions do not even need majority support to have impact – many resolutions that change corporate conduct do so without majority support.
Institutional Investor Assets Involved in Filing Shareholder Resolutions: $1.56 trillion ($1.52 Trillion in 2016); Institutional investor and money managers that filed resolutions: $1.8 trillion ($2.56 trillion in 2016.) This decrease is mostly due to a large, single shareholder who ceased filing in the last two years. Notably, more shareholders and money managers are reporting that they dialogue with corporations on issues of concern than in the past; dialogue is often a precursor to filing a resolution.
Community Investing
Assets in community development financial institutions, such as banks, credit unions, loan funds, and venture capital, continue to grow. These assets make possible new opportunities for economic advancement in regions that are, and often have been, economically marginalized for years. These investments make possible new small businesses, daycare, community services, housing, and support for urban and rural development from coast to coast.
Assets in Community Investments: $185 billion (nearly $122 billion in 2016)
Are you a social investor? Now is the time! Read our blog on how to know when you are on the path to becoming a social investor. Then use these resources to go further:
Where we invest makes a difference – use your assets, whatever size, to support people and the planet!