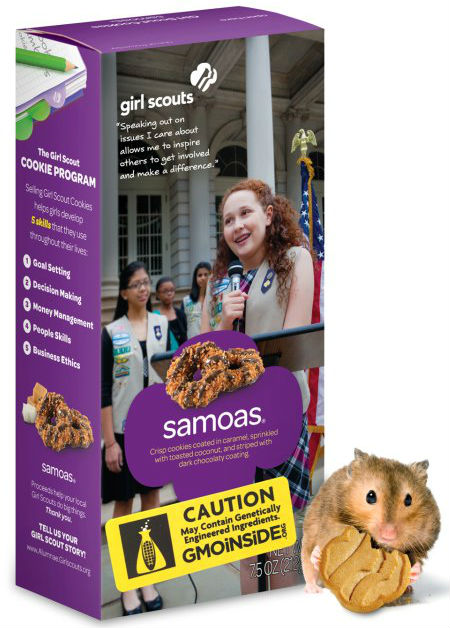 We've been calling on the Girl Scouts to remove GMO ingredients from their cookies.  Until then, we're inviting you to make a donation to support the Girl Scouts (in the same amount you would have spent on cookies this year) and to bake your own  non-GMO versions of your favorite variety at home.  Today's cookie, brought to you by a GMO Insider and our resident organic baker: Homemade Organic Samoas!
Keep in mind that just because these cookies are non-GMO does not mean they are a health food.  They are still cookies after all. However, for consumers who are concerned about GMOs there is no way to avoid GMOs in foods with high-risk ingredients at the moment, unless those foods are certified organic or Non-GMO Project verified.  GMO Inside is calling on all food companies to label their GMO ingredients (as required in the European Union) or get them out completely.
You can join us in sending this message to the Girl Scouts of America by posting a supportive comment on their Facebook wall.
Homemade Organic Samoas
Makes  50-60 cookies
Preparation: Heat oven to 350 Degrees. Line bake sheet with parchment.
INGREDIENTS:
Cookie Dough:
1 lb sweetened organic coconut, toasted
½ cup of organic confectioner sugar
1 cup organic butter
1 tablespoon vanilla
2 cups of organic flour
1 11oz. bag of organic caramels
Chocolate Pouring Sauce:
2/3 cups dark organic fair trade chocolate
2 tablespoons organic heavy cream
4 tablespoons organic powdered sugar, sifted
4-5 tablespoons water, warm
Place coconut on bake sheet and bake at 350 degrees until golden brown, about 10-minutes. Make sure to stir the coconut half way through.
Place butter and sugar in a bowl and beat until light and creamy. Add vanilla and beat until combined. Add flour and beat until combined. Place dough in refrigerator and chill for 20 minutes.
Turn out dough on a lightly floured surface and roll out the dough to an 1/8 of an inch in thickness. Using a 2-inch round cookie cutter stamp out cookies and for the center use the wider end of a piping tip if you don't have a small enough cookie cutter.  Place stamped out cookies on parchment lined bake sheet and bake for 10-12 minutes. Cool cookies on a wire rack.
Place caramel squares in a medium size saucepan over medium heat to melt. Once the caramel bits are completely melted  reserve ½ a cup of mixture in a shallow bowl; set aside. Add the toasted coconut to the remaining caramel mixture.  Fill a shallow pan with hot water and place saucepan filled with the finished caramel coconut  in it to keep the mixture at spreading consistency. Reheat mixture as needed to maintain spread consistency during assembly.
ASSEMBLY:
Dip tops of cookies into the reserved caramel bowl. This will help the sticky caramel coconut mixture to quickly adhere to the cookie. Place cookie on a flat surface and using an icing spatula or butter knife spread caramel coconut mixture on to the cookie. If necessary, use a spoon to guide the caramel coconut spread off the icing spatula and on to the cookies. Let cookies rest for 30 minutes before dipping the bottoms in chocolate and drizzling the striping on top.