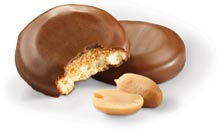 All week, we have been calling on the Girl Scouts to remove GMO ingredients from their cookies.
Until then, we're inviting you to make a donation to support the Girl Scouts and to bake your own  non-GMO versions of your favorite variety.  Today's cookie, a winning combination of peanut butter and chocolate: Non-GMO, Organic Tagalongs!
You can join us in sending this message to the Girl Scouts of America by posting a supportive comment on their Facebook wall.
Homemade Organic Tagalongs Cookies
Adapted by GMO Inside's resident organic baker
Makes 36 cookies
Preparations: Preheat oven to 350F.
COOKIE INGREDIENTS:
1 cup organic butter, soft
1/2 cup organic sugar
2 cups organic all purpose flour
1/4 tsp baking powder
1/2 tsp sea salt
1/2 tsp vanilla extract
2 tbsp organic milk
In a large mixing bowl, cream together butter and sugar. Mix in flour, baking powder and salt at a low speed, followed by the vanilla and milk. The dough should come together into a soft ball.
Take a tablespoon full of dough and flatten it into a disc about 1/4-inch thick. Place on a parchment-lined baking sheet and repeat with remaining dough. Cookies will not spread too much, so you can squeeze them in more than you would for chocolate chip cookies.
Bake cookies for 11-13 minutes, until bottoms and the edges are lightly browned and cookies are set.
Immediately after removing cookies from the oven, use your thumb or a small spoon to make a depression in the center of each cookie
Cool for a few minutes on the baking sheet then transfer to a wire rack to cool completely.
FILLING INGREDIENTS:
1 1/2 cups creamy organic peanut butter
3/4 cup organic confectioners' sugar
generous pinch of sea salt
1/2 tsp vanilla extract
about 8-oz organic semisweet chocolate
In a small bowl, whisk together peanut butter, confectioners' sugar, salt and vanilla. When the mixture has come together, heat it in the microwave (again in short intervals, stirring frequently), until it is very, very soft. Working carefully with the hot filling, transfer it to a pastry bag (or plastic bag with the tip cut off) and pipe a generous dome of the filling into each cookie's "thumbprint".
Chill cookies with filling for 20-30 minutes, or until the peanut butter is firm.
Melt the chocolate in a small, heat-resistant bowl. This can be done in a microwave (with frequent stirring) or on a double boiler, but the bowl of melted chocolate should ultimately be placed above a pan of hot, but not boiling, water to keep it fluid while you work.
Dip chilled cookies into chocolate, let excess drip off, and place on a sheet of parchment paper to let the cookies set up. The setting process can be accelerated by putting the cookies into the refrigerator once they have been coated.
Enjoy!  And keep in mind that just because these cookies are non-GMO does not mean they are a health food.  They are still cookies after all. However, for consumers who are concerned about GMOs there is no way to avoid GMOs in foods with high-risk ingredients at the moment, unless those foods are certified organic or Non-GMO Project verified.  GMO Inside is calling on all food companies to label their GMO ingredients (as required in the European Union) or get them out completely. Join us!