Alexander Schimmeck on Unsplash
The federal minimum wage has been stuck at $7.25 an hour since 2009—just $15,080 a year for full-time work. We can't build a shared recovery and a strong economy on a minimum wage that's too low to live on. Workers are consumers too and want to support their local economies.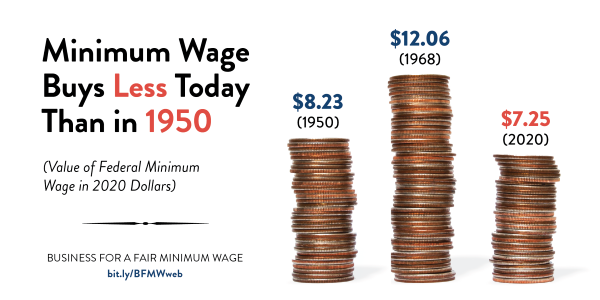 Join Green America's Green Business Network and business leaders nationwide in signing the new Business for a Fair Minimum Wage Statement to raise the federal minimum wage. Raising the wage is a powerful way to boost the economy because it puts money in the pockets of people who most need to spend it. The Raise the Wage Act of 2021 would incrementally increase the minimum wage to $15 by 2025. President Biden's recovery plan calls for raising the minimum wage, increased assistance to small business, and more.
As a signer, you'll be in great company with business leaders including the Green Business Network, Stonyfield, &pizza, Dr. Bronner's, Organic Valley, Raygun clothing, L'Oca d'Oro restaurant, Equal Exchange, Badger Balm, ECOS, Sound Native Plants, 4 Seasons Farm, American Income Life, Ecolisting Living, Contempl8 T-Shirts, Cambridge Naturals, Chrysalis Farm, MOM'S Organic Market, Beauty & Beyond, Real Pickles, La Barberia, the U.S. Women's Chamber of Commerce, and many more. 
Support from businesspeople like you will be vital to achieving an increase for the first time in over 11 years. This is the longest period without a raise since the federal minimum wage was first enacted to help both workers and businesses recover from the Great Depression. You may show support whether or not you currently have employees or pay anyone the $7.25 federal minimum wage.