For many months, it's been hard to determine the President's exact position on the Keystone XL pipeline.  The President has frequently said that he is relying on the State Department's review of the pipeline in order for the Secretary of State to decide whether to approve or reject it, and that review has been delayed several times.
However, with the House of Representatives' vote today in favor of the Keystone XL, the President made his clearest statement yet on the pipeline, and it was breath of fresh air.  According to the Washington Post:
In a news conference Friday in Burma, the president rejected two of the most frequent arguments the project's proponents have made on its behalf, saying he had "to constantly push back against this idea that somehow the Keystone pipeline is either this massive jobs bill for the United States or is somehow lowering gas prices."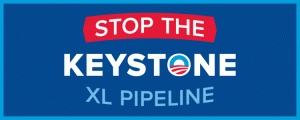 "It is providing the ability of Canada to pump their oil, send it through our land down to the Gulf where it will be sold to everyone else," he said. "It doesn't have an impact on U.S. gas prices."
These are two of the most potent critiques of the pipeline, and are completely based in fact.  Analysis from Cornell Global Labor Institute demonstrates that the Keystone XL will only produce 35 permanent jobs.  No one disputes that oil produced by the Keystone XL is destined for boats that will take if overseas. The Keystone XL will provide no benefit for average Americans or the American economy as a whole. The statements likely mean that President Obama will veto any legislation requiring that the US move forward with the Keystone XL.
The President could have gone even further and noted that the Keystone XL will also expand tar sands production, a technology that has devastating local impacts and huge climate impacts. He has said that his administration will reject Keystone if it will "significantly exacerbate the problem of carbon pollution," which it certainly will do. In light of the historic US-China agreement to reduce carbon emissions, the US needs to invest in rapidly escalating clean energy, not projects that increase carbon intensive energy worldwide.
Hopefully, the next announcement on climate from President Obama will be about scaling up clean energy in the US.  Here at Green America, we'd recommend that the President get behind Clean Energy Victory Bonds, which will allow all Americans to safely invest in the clean energy economy, and provide $50 billion for solar, wind and energy efficiency.