Last year, Americans collectively spent more than $2 billion on Halloween candy. This year, the National Retail Federation estimates that the average person will spend nearly $80 on Halloween items, including candy, costume, and decorations! What if all this money went to support businesses committed to people and planet, rather than conventional businesses, with little regard for workers' rights or environmental protection? This year, consider shifting your own candy spending from conventional products to ones that align with your values.  For chocolate, this means choosing brands that have made long-term commitments to the farmers they work with and have taken steps to prevent child labor on cocoa farms. More than 60% of cocoa, the key ingredient in chocolate, comes from countries in West Africa.  Working on a cocoa farms is hard work, and not very profitable. In fact, most cocoa farmers and their families live in absolute poverty.  Some must result to using inexpensive migrant or child labor to harvest their cocoa.  Tulane University has estimated that 1.8 million children are involved in the production of cocoa. Not all chocolate is made this way though. A few smaller chocolate companies pride themselves on their commitment to the small-holder farmers who provide their cocoa year after year.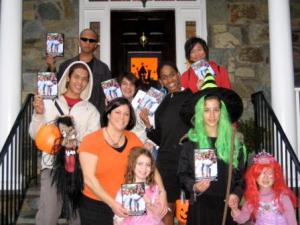 Divine Chocolate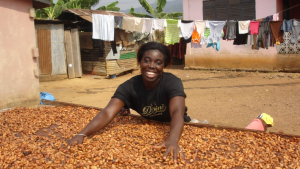 With offices in London and Washington, DC, Divine is the only chocolate company that is both fair trade and farmer-owned.  The Kuapa Kokoo farmer cooperative in Ghana, owns shares in Divine, holds 2 seats on the company board, and plays a key role in business decision making. Divine Chocolate offers both milk chocolate and dark chocolate minis for your trick-or-treaters, at 10% off until October 20.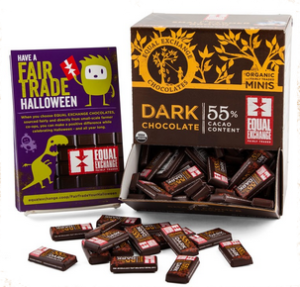 Equal Exchange Equal Exchange is a worker-owned business based in Massachusetts. The company's mission is to build long-term trade partnerships that are economically just and environmentally sound, to foster mutually beneficial relationships between farmers and consumers. For Halloween, Equal Exchange has put together a number of fair trade-themed resources including e-cards, jack-o-lantern stencils, recipes, and an educational infographic. And, importantly, fair trade chocolate minis for your trick-or-treaters, on sale this month at the discounted, wholesale price. Every time you spend money you are voting with your dollars. Take our "Chocolate Scorecard" with you this year when grocery shopping to help you chose the best and most responsible Halloween treats. Photo credits: Divine Chocolate USA and Equal Exchange.