By Anna Meyer
Yesterday Center for Food Safety hosted a congressional briefing on the impact of neonicotinoid pesticides on pollinators. Neonicotinoids (neonics for short) are a class of pesticide developed from nicotine that pose numerous risks to pollinators and our environment. It is pretty likely that you have heard of this pesticide before. In recent years this class of pesticides was linked to major declines in both bee and monarch populations.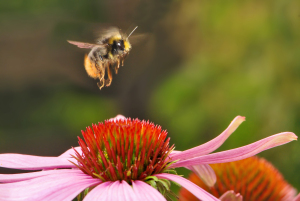 Why does this matter? Bees alone are responsible for pollinating one in three bites of our food and well biodiversity is important and keeping species alive is a key part to keeping our environment functioning. But it turns out that neonics have a much greater impact than just to the pollinator populations; in fact, they impact soil health, insect species, bird populations, and bodies of water. Neonics are unique in the sense that they are most used not as an aerial spray but rather as a pretreatment to seeds. Companies coat seeds in the pesticides so it can ultimately be taken up through the plant.
Just how pervasive are neonics in our agricultural system? Disappointingly, that is actually quite a bit challenging to answer because the government does not have any central information that tracks the use of neonics. Researchers out of Pennsylvania State University have delved into this issue and found that despite the fact that these pesticides were
introduced in 2004, recent data shows that between 79 and 100% of corn and 34-44% of soybeans are pre-treated with neonics. These two crops along with cotton and wheat make up cropland with pre-treated seeds the size of California.
What makes them so harmful? Neonics present a triple threat with characteristics as neurotoxic, systemic, and long-lasting chemicals. What this means is that neonics move through the plant system, while they are only applied to the seed the
pesticide is taken up through the roots into the entire plant. Due to the quality of being long-lasting they have the ability to accumulate in our soils and waters. Particularly at risk are habitats surrounding fields planted with neonic coated seeds multiple seasons in a row. Most disturbingly, neonics are a neurotoxin that can move up the food chain through bio-accumulation (sort of like mercury in fish). Smaller creatures such as slugs snack on the toxin coated seeds; and while they fair okay, their natural predators beetles suffer the effects. Doesn't sound to good now does it? To make things even worse 94% of neonics applied to seeds seep into the environment.
So why use them? A very legitimate question and there really isn't a logical answer. It turns out that prior to the introduction of neonics there was very little use of insecticides in corn and soy. In 1996, biotech companies introduced Bt varieties.to self-produce an insecticide protein within the plant, theoretically removing the need for insecticides; but the use of neonics continues to rise. Yet, there is very little evidence that the neonic seed coatings provide any benefits to farmers. The problem is that farmers don't have much choice in the matter as seed companies control the use of this pesticide as a seed treatment and offer farmers little in the way of neonic-free alternatives. More often than not neonics serve as a sort of insurance policy for farmers, a backup plan if you will, in case of the failure of Bt and other insecticides.
Well then how do we make it all better? Interestingly enough, pollinator health tends to be a subject matter that crosses party lines and one on which both sides can find common ground. Representative John Conyers (D-MI) has introduced a bill to address pollinator health, H.R. 1284 Saving America's Pollinators Act of 2015, calling on the EPA to take direct action to address the impact of pesticides on pollinator health. Other policy solutions involve greater support for integrated pest management (IPM), which encourages farmers to use a variety of methods to control pests better protecting human and environmental health. IPM can be promoted through government incentives and regulatory procedures through existing programs. It is key that the proper education and research is provided in order to encourage best practices and put an end to existing inefficient and destructive pesticide practices. As Rep. Coyners put it, we must act now to protect our flying friends who play an enormous role in our global food system, bees cannot wait.