Hydraulic fracturing, or "fracking," touted by industry as the technological saving grace to our nation's energy woes, has caused much concern to the environmental community during recent years. Amidst claims that burning natural gas is a less carbon-intensive source of electricity and heat, frackers have had to defend their business against assertions that their activities cause earthquakes, air and water pollution, and contribute to climate change. A recent NASA satellite study of the San Juan Basin in New Mexico and Colorado confirms what environmental researchers have long suspected: delinquent methane emitted from over 40,000 gas and oil wells has been accumulating in the atmosphere, where it will remain trapping heat for years to come.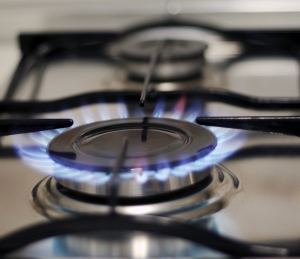 The Delaware-sized methane plume observed in the study floats above the San Juan Basin, trapping 80 times as much heat as CO2 in the atmosphere. Methane, the main component of natural gas, accounts for about 9% of US greenhouse gas emissions. The EPA states that 30% of this methane comes from industry, while the rest enters the atmosphere by ways of agriculture, human-generated waste, and natural sources. Equipment used to produce, store, and transport natural gas, often old and outdated, is dangerously prone to leaks. This study is one of the first to demonstrate the size of the problem.
The problem of methane emissions resulting from gas production isn't just apparent to the climate-focused. Energy companies are seeing nearly $2 billion worth of their product drift away into the atmosphere, nearly 8 million metric tons per year (enough to power every household in Washington, DC, Maryland, and Virginia). Despite the large financial incentive to capture this gas and bring it to market, aging infrastructure and poorly regulated implementation and operation of gas production technologies continue to be largely responsible for escaped methane. In many cases, natural gas and oil are located in the same shale formations. When a company drills for oil, they often flare excess methane into the atmosphere, where it will trap significantly more heat than its GHG counterpart, CO2.
While the energy industry claims that it is well aware of its leakage problem and taking measures to install updated equipment aimed at slashing the delinquent natural gas, environmental groups are calling for tighter regulations on oil and gas producers. According to a report by the Clean Air Task Force, the National Resources Defense Council, and the Sierra Club, there are existing technologies that will significantly reduce the gas that escapes from wells across the country. Requiring oil and gas producers to use them, however, has elicited a predictably negative response from the energy industry. According to the Washington Post,
"The Obama administration is reviewing a host of possible remedies that range from voluntary inducements to more costly regulations requiring oil and gas companies to install monitoring equipment and take steps to control the loss of methane at each point in the production process. The announcement of the administration's new policies has been repeatedly delayed amid what officials describe as internal debate over the cost of competing proposals and, indeed, over whether methane should be regulated separately from the mix of other gases given off as byproducts of oil and gas drilling."
Methane in the atmosphere is a serious climate concern. While there will certainly always be methane in the atmosphere from sources such as volcanoes and livestock (and we can reduce the latter), the additional emissions from our fossil fuel industries are unnecessary and preventable. Despite the obvious economic reasons to capture escaped gas, reducing methane emissions is imperative to meeting the climate goals set forth by the Obama administration, which we are far from meeting. We urge you to take the time to contact the White House, your representatives and the EPA to let them know you support regulations to decrease methane emissions from the energy industry.