We've all been there. You're swamped with work, you have a ton of errands to do, you need to find something to wear to a holiday party, and then you remember. You need to get a gift for the host! Before you reach for that Starbucks gift card conveniently located in the checkout line, think about what you want your gift to say. Sure, everyone loves coffee. But everyone also loves a thriving, vibrant planet full of healthy food systems and ecosystems.
Starbucks uses over 140,000,000 gallons of conventional milk each year. That is enough milk to fill 212 Olympic-size swimming pools. This conventional milk typically comes from cows that are given GE (genetically engineered) crops and antibiotics, raised in inhumane, unsanitary conditions, and killed when production slows.  Not in the holiday spirit, to say the least.
Last year nearly 2.5 million Starbucks Cards were purchased on Christmas Eve. This makes sense, as the majority of shoppers say they would like to receive a gift card. Wouldn't it be nice if the billions of dollars loaded onto these gift cards could go to companies that are sourcing ingredients sustainably and ethically? Fortunately for holiday-gift-procrastinators everywhere, there are widely sold gift cards from a number of more eco-conscious organizations you can pick up instead!
Chipotle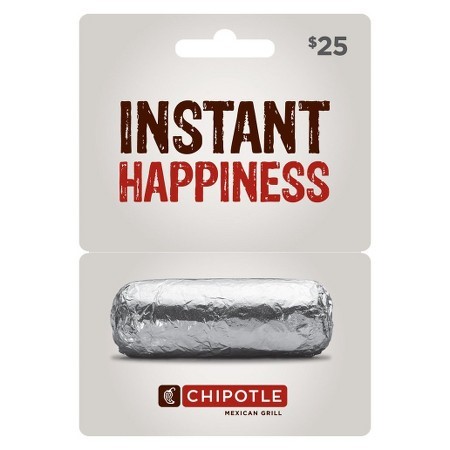 Chipotle is an example of a company that has been committed to corporate responsibility in its sourcing strategy. In addition to its commitment to using  non-GMO ingredients, Chipotle purchases ingredients from local farms surrounding its franchises. Chipotle also made a statement by removing pork from their menu after a drop in the supply of humanely raised pork would have meant purchasing pork from farms that raise pigs in confinement. Best of all, a recent survey of everyone ever says burritos are delicious.
Your Local Natural Foods Store or Whole Foods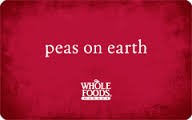 Giving the gift of groceries is always appreciated. Many local organic markets and food co-ops offer gift cards for the holidays. If that's not an option in your community, there may be a Whole Foods in your area. With cards for grocery stores like these, you can ensure your gifted dollars go towards supporting a variety of sustainable-minded brands like Nutiva and Crofter's. Here, you can help your favorite coffee drinker get their fix in the form of Equal Exchange coffee which is fair trade and organic. They can also find sustainable creamer to go with it, whether that means almond or soy milk for a plant-based alternative or organic milk from brands like Straus Creamery or Trickling Springs Creamery.
Patagonia
While it may take a little more planning ahead, a Patagonia gift card provides cozy and stylish gear while supporting a company that donated 100 percent of their Black Friday profits to better the planet. With 10 million dollars in sales, Patagonia gave every penny of profit to grassroots environmental organizations. Did I mention they have fair trade and recycled collections? And just when you thought it couldn't get any better, they also have an organic food line! I'd say that's a company well worth giving your business to.
Ten Thousand Villages
Another great plan-ahead option for a gift card is Ten Thousand Villages. Ten Thousand Villages supports communities in the developing world by selling their crafts which are usually made with recycled or natural materials. With a large selection of everything from jewelry and accessories to home decor and beauty products, Ten Thousand Villages is sure to have something everyone you know will love.
Green America Gift Membership
If you're giving a gift to someone who wants to support Green America's work on important environmental and sustainable food issues, you can give a Green America Gift Membership! Inspire friends and family with green living tips and resources to vote with your dollar. Also, if you buy one gift membership, you'll get the second for free, giving you two last-minute gifts for the price of one.
The holidays are the busiest time of year, and we've all been guilty of a last-minute gift purchase. To make sure that purchase is thoughtful and supportive of ethical practices, these options are good to keep in mind. So next time you're eyeing that decidedly less-than-practical $200 Swarovski encrusted Starbucks gift card, you'll probably want to go with an unadorned Chipotle one instead.  Another great way to support better dairy sourcing is to make your voice heard and ask Starbucks to serve organic milk. Thank you for your help and happy holidays from everyone at GMOInside!