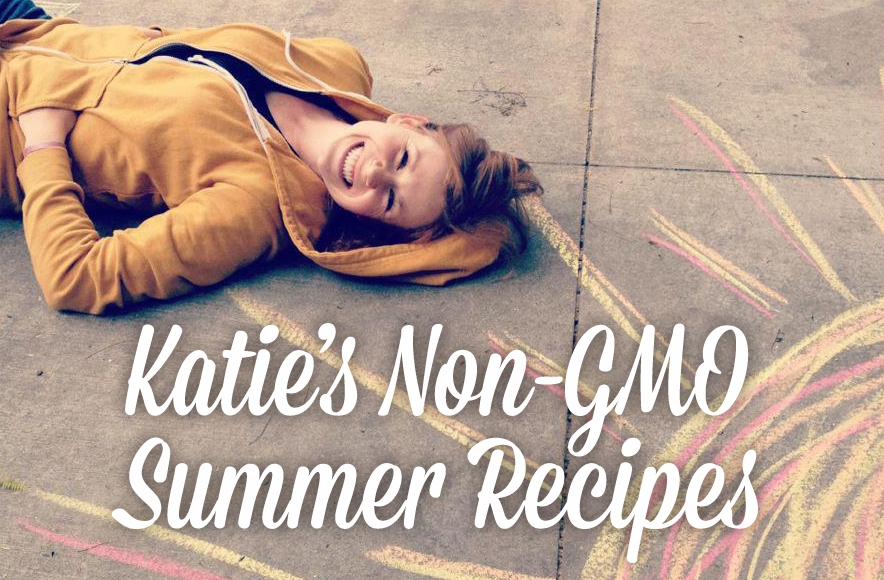 If you're looking for a quick and easy summer meal, don't reach for the pre-packaged dinners that are often laden with GMOs.  Summer is a great time to embrace the fresh, organic produce at your local farmers markets and thus support sustainable, non-GMO food and the people who produce it.  This gazpacho recipe takes advantage of some of the best produce that the markets have to offer in the summer: tomatoes, peppers, and cucumbers.  They're all combined into a light, yet almost creamy summer soup, celebrating a local, non-GMO meal for you and your family on a hot summer day.
Gazpacho is a traditional chilled tomato soup that originated in the South of Spain, typically enjoyed in the summer months for a refreshing, healthy meal.  The version that I made here is vegan and gluten-free, but the soup is often made with bread blended into the soup for an extra richness – so if you want to try that route, simply soak two slices of stale white bread in enough water to cover them, and then add it to the rest of the soup ingredients before blending.  This soup is wonderfully variable, so feel free to eyeball the amount of each vegetable going in, add more cayenne pepper if you like spice, or use sherry vinegar instead of white wine vinegar if you don't have it.
Gazpacho
Make sure that all of your ingredients are certified organic or certified non-GMO.
Chop everything into 1 inch pieces and add to a large, deep bowl (or straight into your blender):
-5 large tomatoes
-2 red bell peppers
-1 green bell pepper
-1 large cucumber
-1 medium red onion
-3 cloves of garlic
-1/4 c. white wine vinegar
-1/4 c. extra virgin olive oil
-salt and pepper to taste
-several dashes of cayenne pepper (depending on your spice preference)
Now, blend everything up! I used an immersion blender which works perfectly. Taste, and add more salt/pepper/cayenne/olive oil as needed. Chill the soup for 1-2 hours or overnight before serving to let the flavors marry. Serve cold on a hot summer day or night.
Katie Gatlin is the Development Coordinator at Green America, and in her spare time, she loves to frequent the local farmers markets to find inspiration for her food blog lepetitartichaut.com. If you liked this recipe, you'll also like her Chilled Pea Soup.