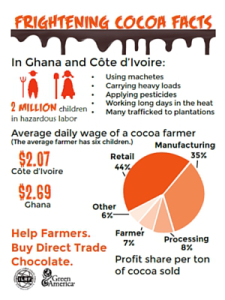 We're calling on consumers to choose chocolate for visiting goblins and witches that supports cocoa farmers and their families! That means buying from a chocolate company that has a direct and long-term relationship with the farmers it purchases from. Along with our partner, the International Labor Rights Forum, we've developed an informational card which can be printed and handed out along with the treats, so you can help spread the word about the injustices of the cocoa sector!
How it works:
1. Download our quarter-page flyer and print out as many as you like for your trick-or-treaters
2. Order or buy direct trade or fair trade chocolate minis*
3. Attach 1 mini to each card with double sided tape or non-toxic glue 4. Share with your visitors and their parents
Background:
Over 70% of the world's cocoa comes from West Africa, where cocoa farming families, with an average of 6 people, live on roughly just $2 per day. As a result, over 2 million children are relied on to harvest the cocoa crop each year. For years, Green Americans have campaigned to put an end to hazardous child labor in the cocoa fields. The good news is that consumer pressure works. Major chocolate companies have started to take action to address the problems in their supply chains. The bad news is that many of the company solutions are too small and slow to really fix the problem. We need to keep up the pressure on companies, and in the meantime we need to support the chocolate companies that are doing it right.
*Where to find Better Chocolate:
Support cocoa farmers this year by choosing better chocolate for your trick-or-treaters. Download our informational cards now!