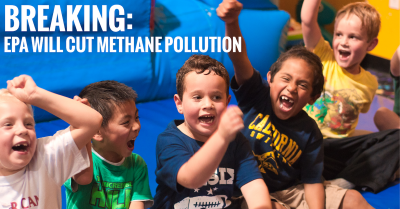 Today, the EPA published its final rule regarding methane leaks from new, modified, and reconstructed oil and gas sources.  This is an important step forward for the US, especially in light of our climate commitments from the Paris Agreement.  Thanks to the thousands of Green America individual and business members that took action to support the rule. The rule is a long-time coming and very necessary.  Huge amounts of dangerous methane and toxic air pollution are leaking from oil and gas industry sources, and it was recently announced that those leaks are 34% worse than previously reported. Increased methane leaks may be undermining the progress that the US has made in reducing CO2 emissions over the past decade. Methane pollution represents one of the most significant threats to Americans' air, environment and public health.
Climate: Methane pollution is to blame for a quarter of man-made climate change. Pound for pound, the gas traps more than 80 times as much heat on our planet in the short term as carbon dioxide does. The oil and gas industry are leading source of methane emissions in the US and much of those emissions are due to waste that can be captured.
Health: Methane not only drives climate change, it impacts the health of communities nationwide. Methane pollution and toxic chemicals from the oil and gas industry worsen smog, trigger asthma attacks in children, and cause cardiovascular disease and even premature death. The health impacts of methane often hit low-income communities and communities of color the most.
Waste: We could heat over 7 million homes each winter with the more than $1 billion in natural gas that the oil and gas industry recklessly wastes by leaking it into the air. Capturing methane leaks will also create jobs, and many of those jobs will be provided by innovative small businesses.
Green America applauds the EPA for the steps it is taking to regulate methane emissions from new oil and gas sources, and urges the EPA to now address methane leaks from existing sources.